Looking for a spooktacular Halloween Afternoon Tea in Norfolk, Suffolk and Essex, then check out some of these suggestions.
Halloween Afternoon Tea Norfolk
The Assembly House of Horrors Afternoon Tea
Theatre St, Norwich NR2 1RQ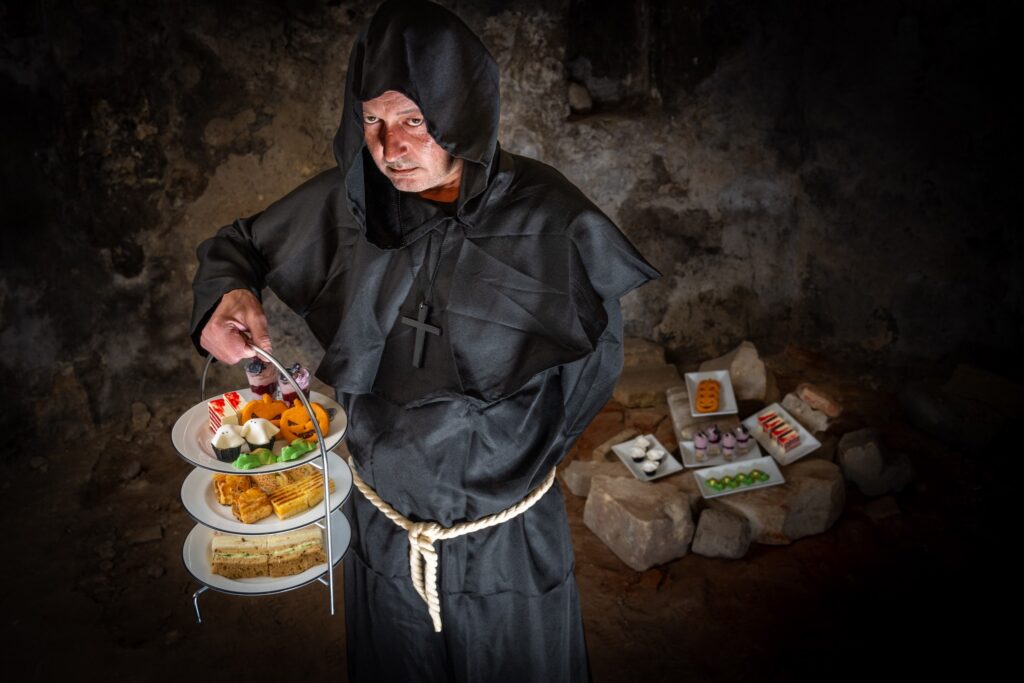 Trick or Treat Yo'self to this years Assembly House of Horrors Afternoon Tea!
Starts 16th October 2023.
They're creeping it real with their seventh eerie-sistible Assembly Hous eof Horrors Halloween Afternoon Tea, which will lift the spirits (hopefully not literally) from 16th October to 31st October 2023.
Halloween cakes include:
The Vampires' Wedding Cake: sink your fangs into ravishing red layers of almond Gateau Opera sponge sandwiched with heavenly cream cheese frosting and blood strawberry coulis.
Ghoul-Friend : A carrot cake cupcake with cinnamon buttercream haunted by a sugar ghost.
Witch's Familiar : A speckled white chocolate frog with passionfruit filling.
Jack O' Lantern Dodger : An orange shortbread biscuit sandwiched together with ghoulishly good raspberry jam.
What's Your Poison Shot : Blackcurrant cheesecake, blackcurrant coulis, shortbread crumb and a magic postion bottle (be careful what you wish for…)
Check out the website for further details
Byfords Bewitched Afternoon Tea
1-3 Shirehall Plain, Holt NR25 6BG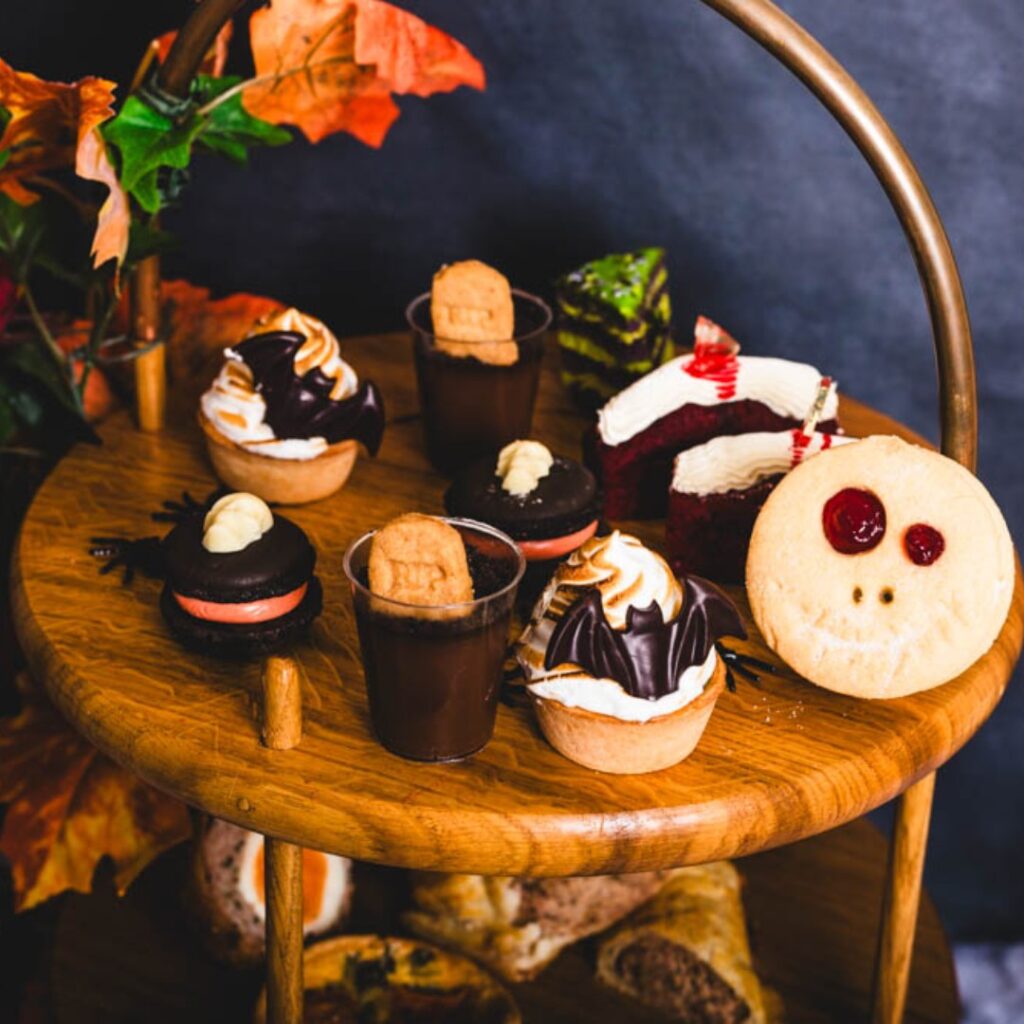 Wanting to celebrate Halloween with sweets, treats and cocktails?
No more witchful thinking! Park your brooms and let Byfords ghostess with the mostest do the work as you delve into an afternoon tea stand full of gory goodies.
There'll be no tricks in this spread, just delicious treats such as graveyard chocolate pots, slime meringue pie and blood orange skull macarons. Along with scary savouries and a choice of loose-leaf tea and coffee, experience love at first bite at Byfords this spooky season.
Check out the website for further details
Cliff Hotel Halloween Afternoon Tea
Cliff Hill, Gorleston-on-Sea, Great Yarmouth NR31 6DH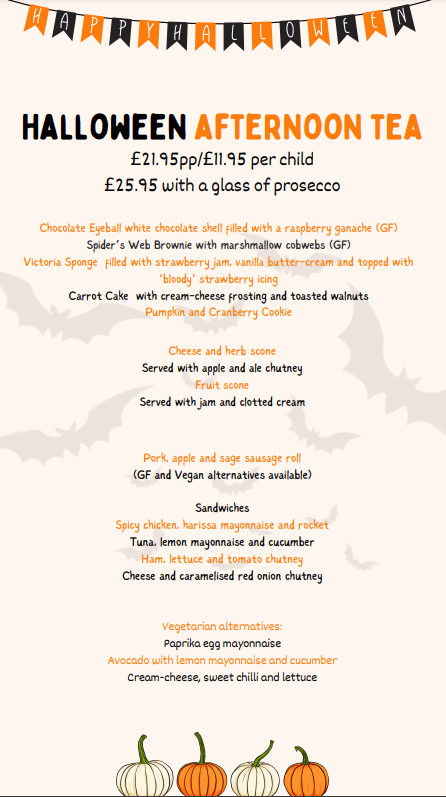 Halloween Afternoon Tea at The Cliff Hotel consists of:
Chocolate Eyeball white chocolate shell filled with a raspberry ganache (GF)
Spider's Web Brownie with marshmallow cobwebs (GF)
Victoria Sponge filled with strawberry jam, vanilla butter-cream and topped with
'bloody' strawberry icing
Carrot Cake with cream-cheese frosting and toasted walnuts
Pumpkin and Cranberry Cookie
Cheese and herb scone Served with apple and ale chutney
Fruit scone – Served with jam and clotted cream
Pork, apple and sage sausage roll (GF and Vegan alternatives available)
Sandwiches:
Spicy chicken, harissa mayonnaise and rocket
Tuna, lemon mayonnaise and cucumber
Ham, lettuce and tomato chutney
Cheese and caramelised red onion chutney
Vegetarian alternatives:
Paprika egg mayonnaise
Avocado with lemon mayonnaise and cucumber
Cream-cheese, sweet chilli and lettuce
Check out the website for further details
Halloween Afternoon Tea Suffolk
Suffolk Food Hall Halloween Afternoon Tea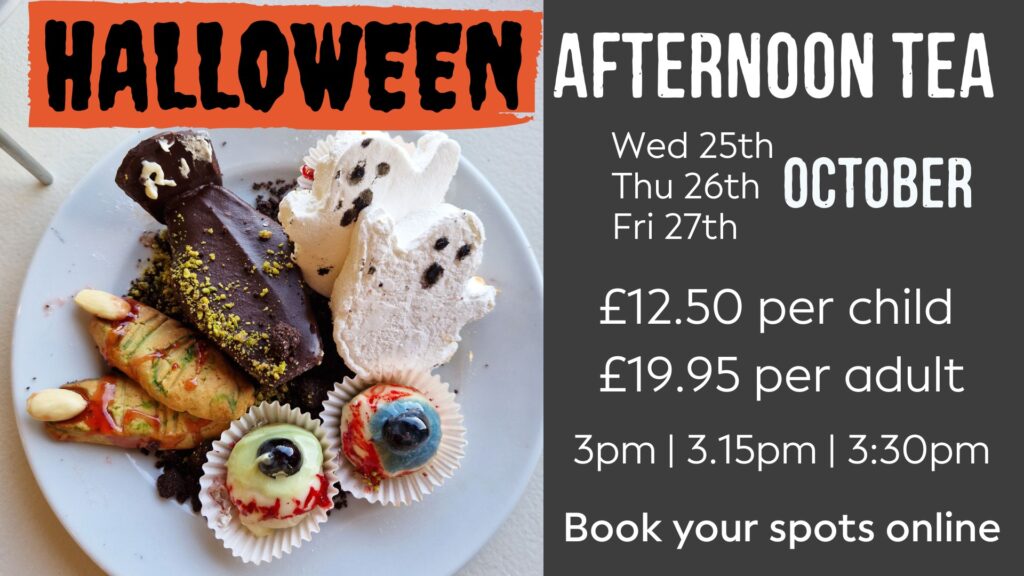 Spooky season is here and Suffolk Food Hall have something special for you…
Halloween Afternoon Tea.
Simon has been busy creating a scary (but delicious) afternoon tea with some spooky sweet treats to celebrate Halloween.
They're running the Halloween tea on:
Wednesday 25th October: 3pm | 3.15pm | 3.30pm
Thursday 26th October: 3pm | 3.15pm | 3.30pm
Friday 27th October: 3pm | 3.15pm (SOLD OUT) | 3.30pm
There is limited availability left on all slots (Those that are sold out are not available)
Check out the website for further details
Procopio's Pantry Halloween Afternoon Tea
17 Langton Place, Hatter Street, Bury St Edmunds IP33 1NE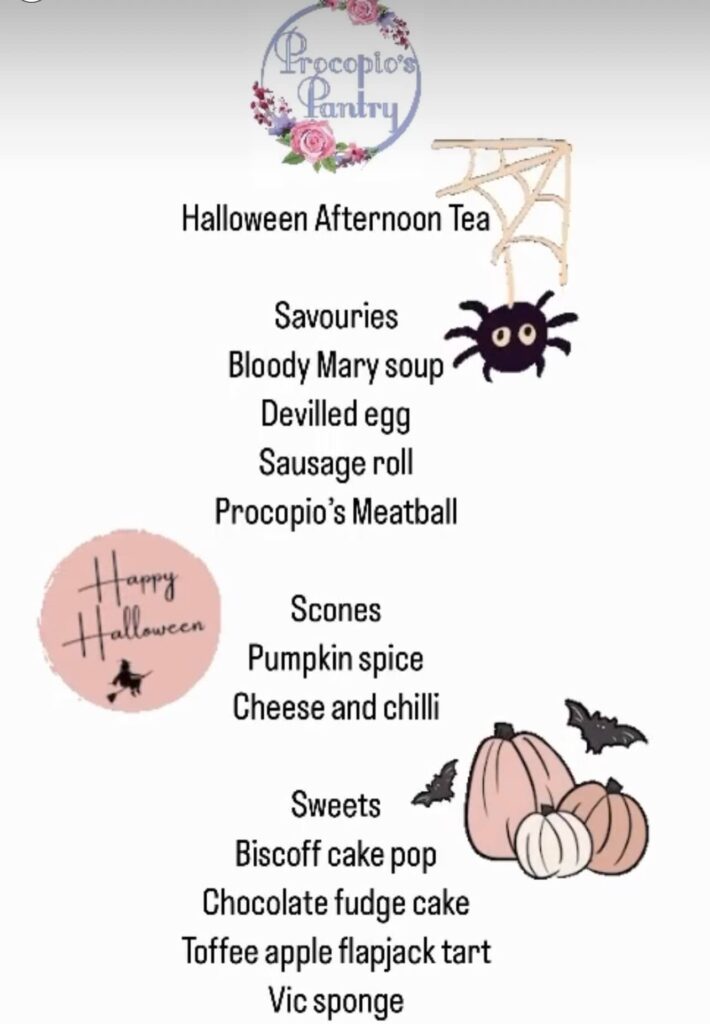 HALLOWEEN AFTERNOON TEA ‼️
Savouries:
Bloody Mary soup, Devilled egg, Sausage roll, Procopio's Meatball
Scones:
Pumpkin spice, Cheese and chilli
Sweets:
Biscoff cake pop, Chocolate fudge cake, Toffee apple flapjack tart, Vic sponge
The Halloween Afternoon Tea will only be available between Wednesday 18th and Sunday 29th October 2023.
Check out the facebook page for further details
Halloween Afternoon Tea Essex
Down Hall Garden Room Halloween Afternoon Tea
Matching Rd, Hatfield Heath, Bishop's Stortford CM22 7AS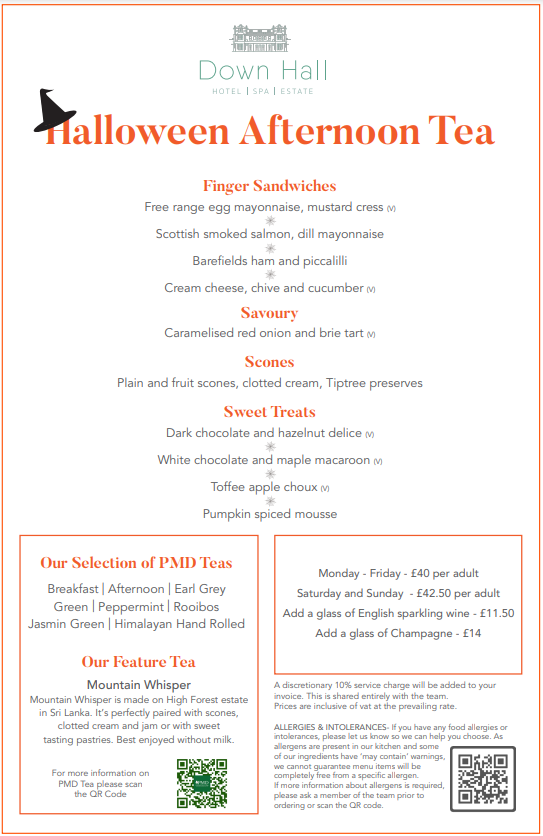 Delve into a devilish afternoon tea this Halloween. Celebrate the spooky season with our delightful themed Halloween afternoon tea.
Sink your fangs into a ghoulishly delicious spread of eerie treats and wicked delights.
Monday 23rd October- Tuesday 31st October
Check out the facebook page for further details
Mad Dogs & Englishmen Wizarding Wonder
1349-1353 London Rd, Leigh-on-Sea, Southend-on-Sea, SS9 2AB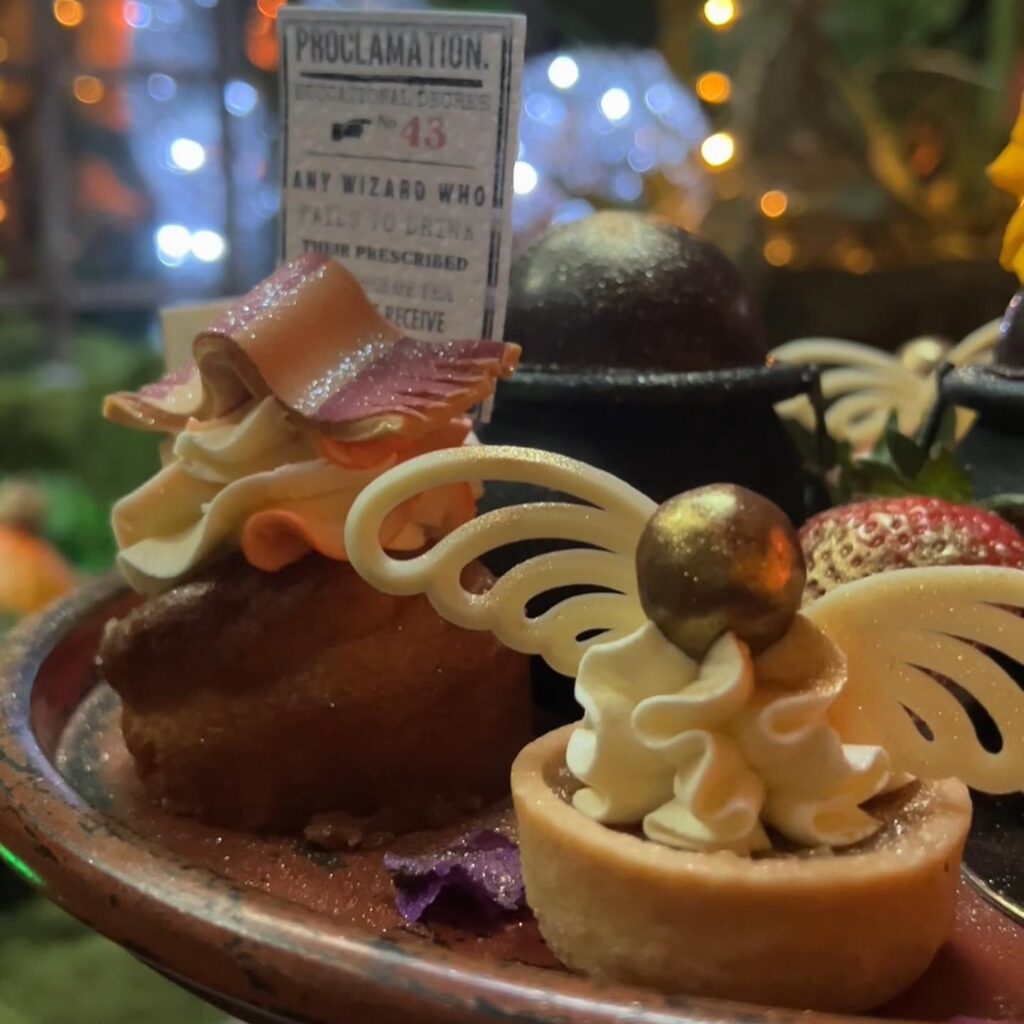 A Wizarding Wonder
Concoct potions and cast magical spells. Enchanting edible treats will deceive and delight the eyes as well as the taste buds.
Creaky cauldrons bubble away to reveal deep mystical wonders. Get your broomsticks at the ready!
The Whispering Woodlands
Enter The Whispering Woodlands if you dare. Oozing with dark magic, enchanting creatures & spellbinding potions.
An afternoon tea filled with forbidden edible treats and bubbling cauldrons. Get your wands at the ready!
This is a darker version of our Wizarding Wonder Tea, aimed to scare & delight.
Check out the website for further details
Scotts Kitchen Halloween Afternoon Tea
Sutton Road, Rochford, Essex, SS4 1LQ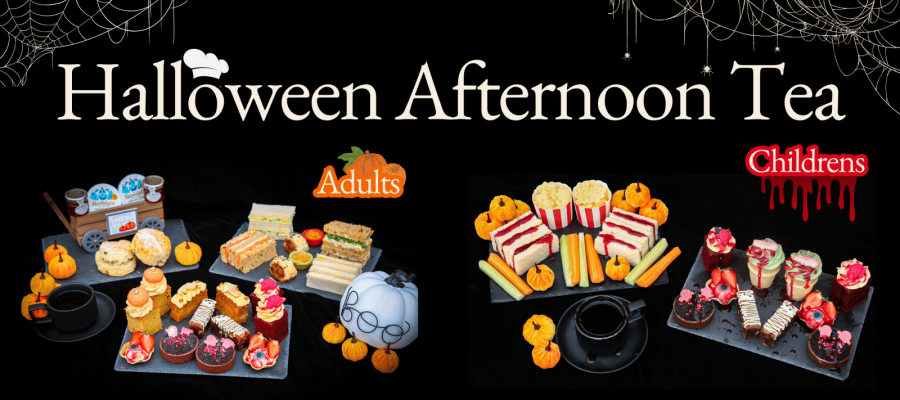 The in house bakers have made a show stopping Halloween Afternoon Tea for you this October!
Delicious sweet and savoury spook-tastic treats!
The Halloween Afternoon Tea will be served to you displayed on classic picnic benches and not the slate like in the photos.
(Standard Tea Includes)
Triple Chocolate Brownie, Toffee Apple Cinnamon Cake, Pumpkin Spiced Latte Cake, Devils Red Velvet Cake, Strawberry Eyeball Tartlet with Raspberry, Chocolate Tart, with caramelised white chocolate cream, edible soil, raspberry bats
Homemade Fruit Scone, Tiptree Jam, Clotted Cream
Homemade Caramelised Onion Sausage Roll, Miniature Cheese Quiche, Cucumber Cream Cheese (on white), Smoked Salmon Cream Cheese (on granary), Ham and Mustard (on white), Egg Mayo and Cress (on granary)
Check out the website for further details