DOG FRIENDLY BEACHES NORFOLK HAS TO OFFER
Norfolk beaches are outstanding, some of THE Best in the country, and even better, many of them are completely dog friendly, we have so many choices and they are all unique.
If you are considering a holiday in Norfolk, check out these Norfolk Dog Friendly Cottages
You will find sandy beaches, pebbly ones, some shingle and a few even marshy and muddy, which your four legged friends will adore (you may not if you have to travel home with a stinky muddy pup!) Whichever beach you choose to visit, you can be sure to find the perfect one for you and your dog.
During the summer months these beaches can get pretty hot, and some have very little shade, so if you are planning a trip to the beach during the warmer weather (our newfie prefers the rain and cold!) please ensure you go early in the day or later in the evening to ensure your dogs stay cool and hydrated.
Norfolk Dog Friendly Beaches
Beaches are listed in geographical order from Gorleston to Snettisham
Dog Friendly Beach Gorleston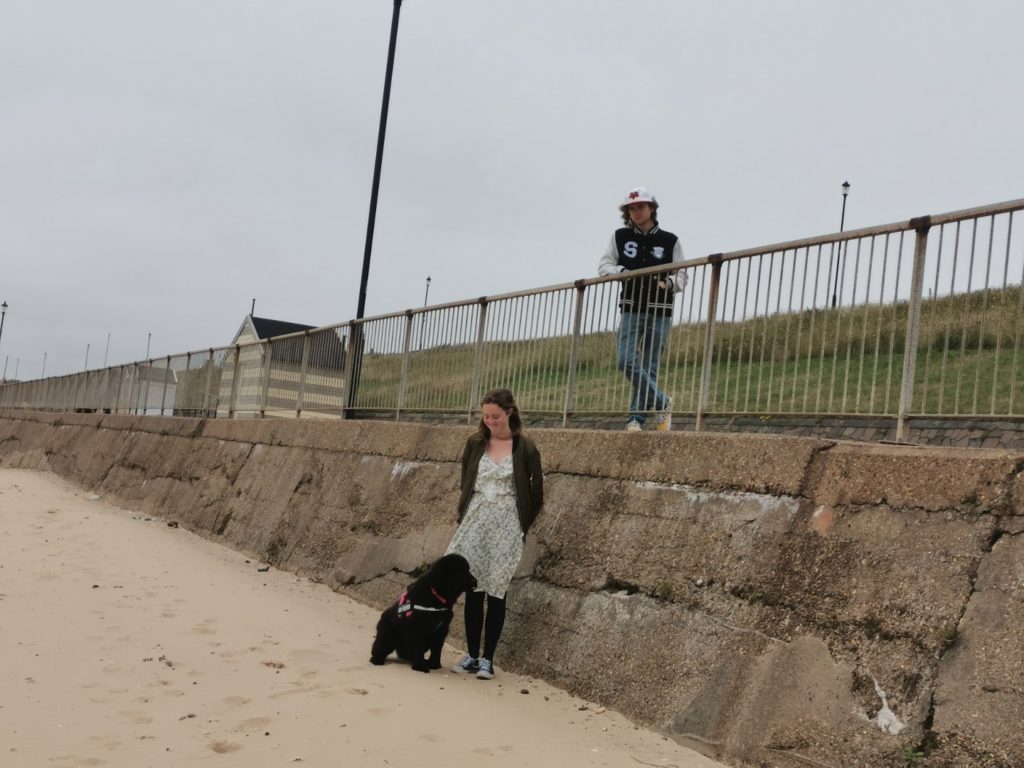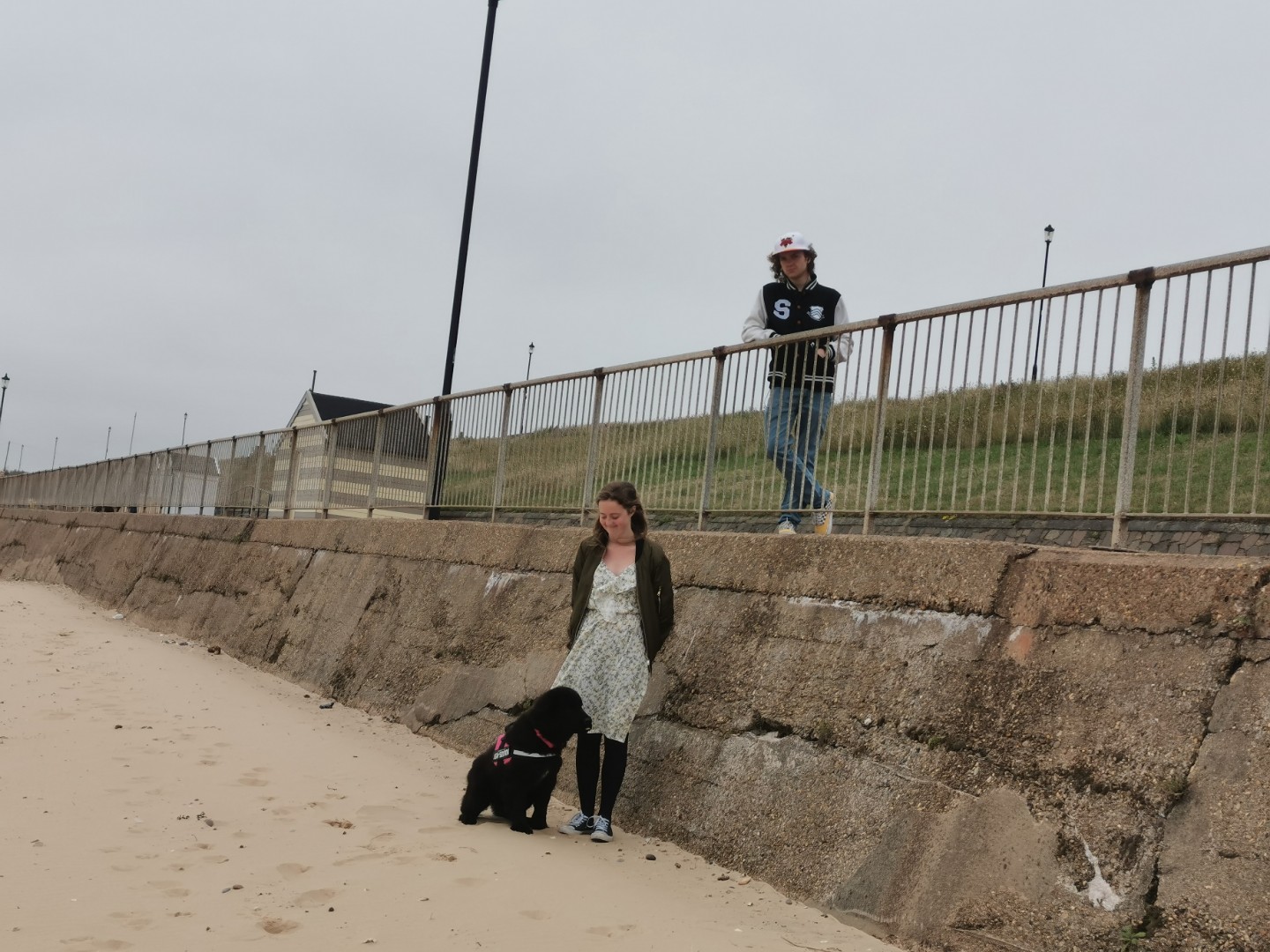 A lovely sandy beach that has parking up on the Cliffs and down by the Splashpad and Gorleston Pavilion Theatre. At the cliffs end of the beach there are no restrictions and you and your dog can go on the beach all year, there are however restrictions from the ravine to the yacht pond part of the beach from 1st May to the 30th of September.
You can walk along the entire promenade, but dogs ,must be on a lead from May to September, halfway along the promenade you can sit for something to eat at Jay Jays Cafe, or grab some chips from the Beach Cafe near the yacht pond and splash pad, slightly further along at the harbour you can find the Doggy Diner too.
Dog Friendly Beaches Great Yarmouth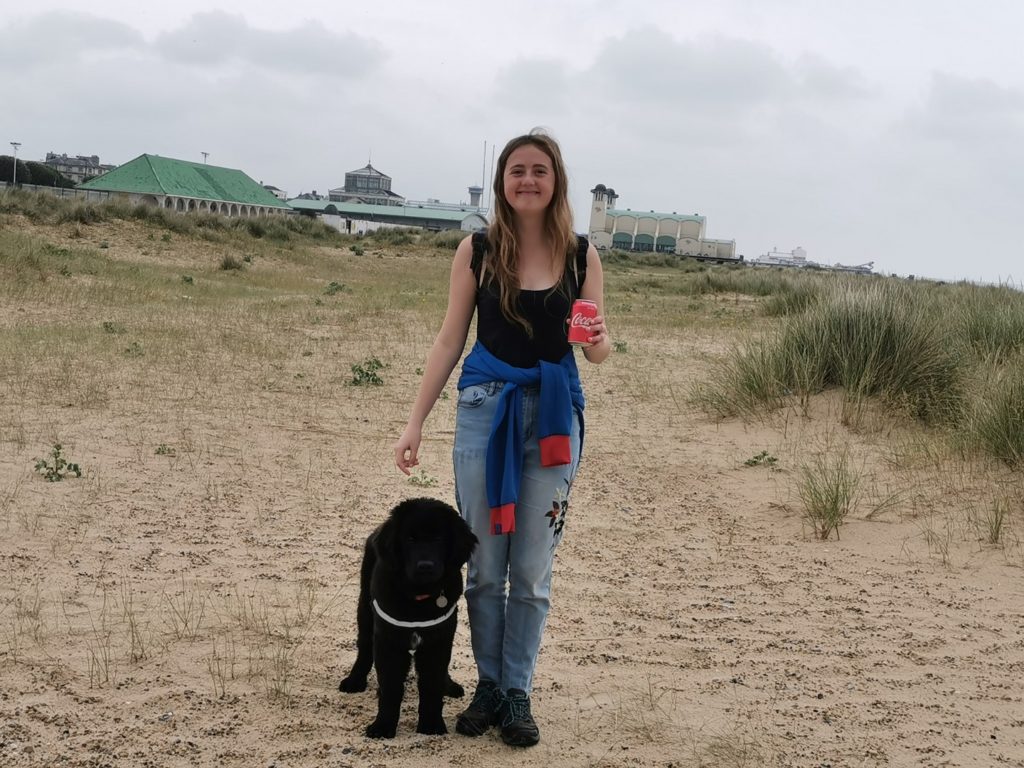 There are three distinct beaches at Great Yarmouth North, South and Central beaches.
The Northern end of Great Yarmouth Beach has no restrictions all year round and is perfect for a summer stroll or winter hikes, and a great place to take your furry friend . It starts at Britannia Pier stretches for miles especially handy if you are staying at Seashore Holiday Park, as this is right outside it's door!
The South beach starts south of the Pleasure Beach and Wellington Pier. It is quieter than the main beach with grassy sand dunes but still close to the main attractions. It is a lovely beach to walk along and gets lots of little pools, which are perfect for the dogs not so keen on swimming in the waves.
The central beach is between Wellington Pier and Britannia Pier and has restrictions for dogs between 1st May and 30th September. Dogs must be kept on a lead on the promenade and are not allowed on this section of the beach during these months.
Whilst you're out on the seafront why not check out Great Yarmouth Fish and Chips
Dog Friendly Caister Beach
Caister Beach has no restrictions throughout the year for dogs, it is a mix of sand and pebbles with sand dunes as a backdrop. There is a small free car park next to the beach with public and disabled toilets. The beach is usually nice and quiet and has easy access if you are staying at Caister Holiday Park
Dog Friendly California Beach Norfolk
A sandy and shingle beach at the bottom of cliffs, merging with Scratby Beach. Access is via some steep steps down the side of the cliff or alternatively you can reach the beach by having a lovely walk from Caister just along the coast. Public toilets/limited car parking.
Dog Friendly Scratby Beach
Scratby Beach has stunning panoramic views across the sea, up on the cliff top, (where you will also find parking and toilets). Once you have finished admiring the views, there are several paths back down, the beach which is a mix of sand and shingle can be accessed via a slope and some steps. Scratby Beach has no dog restrictions and you are welcome to bring them all year round.
Dog Friendly Hemsby Beach
There are restrictions on the main Hemsby beach from the 1st of May to the 30th of September. This is a small section of approximately 100m either side of the beach entrance, but the rest is fully accessible all year. Hemsby has some great dog friendly pubs and holiday parks.
Dog Friendly Winterton Beach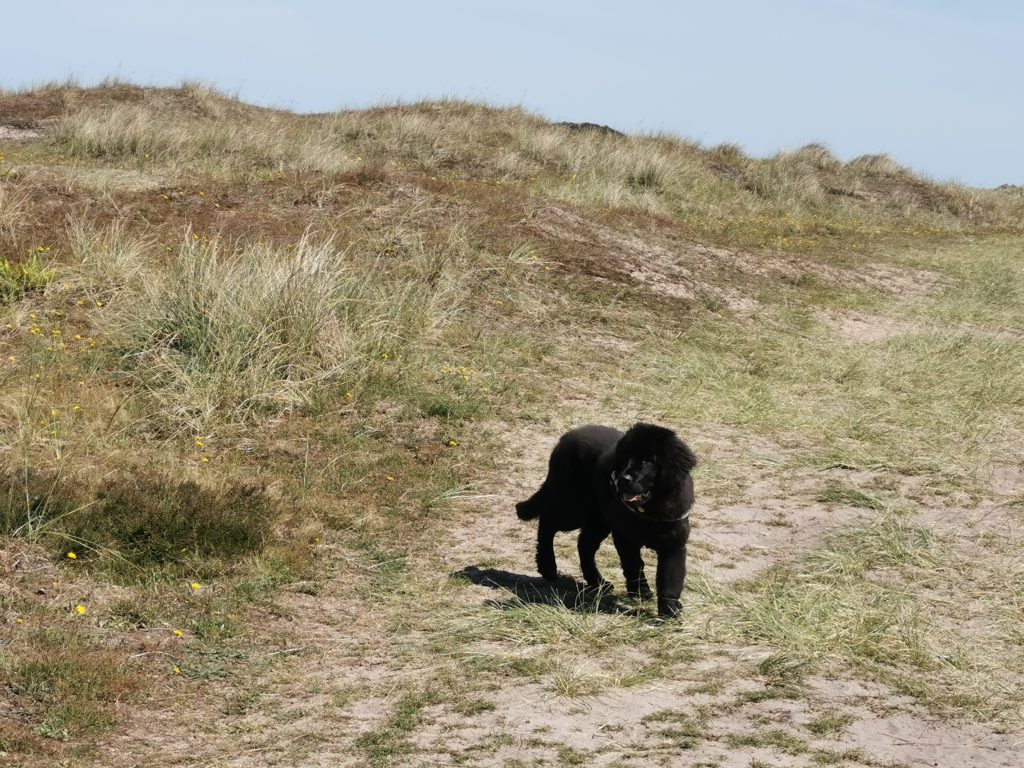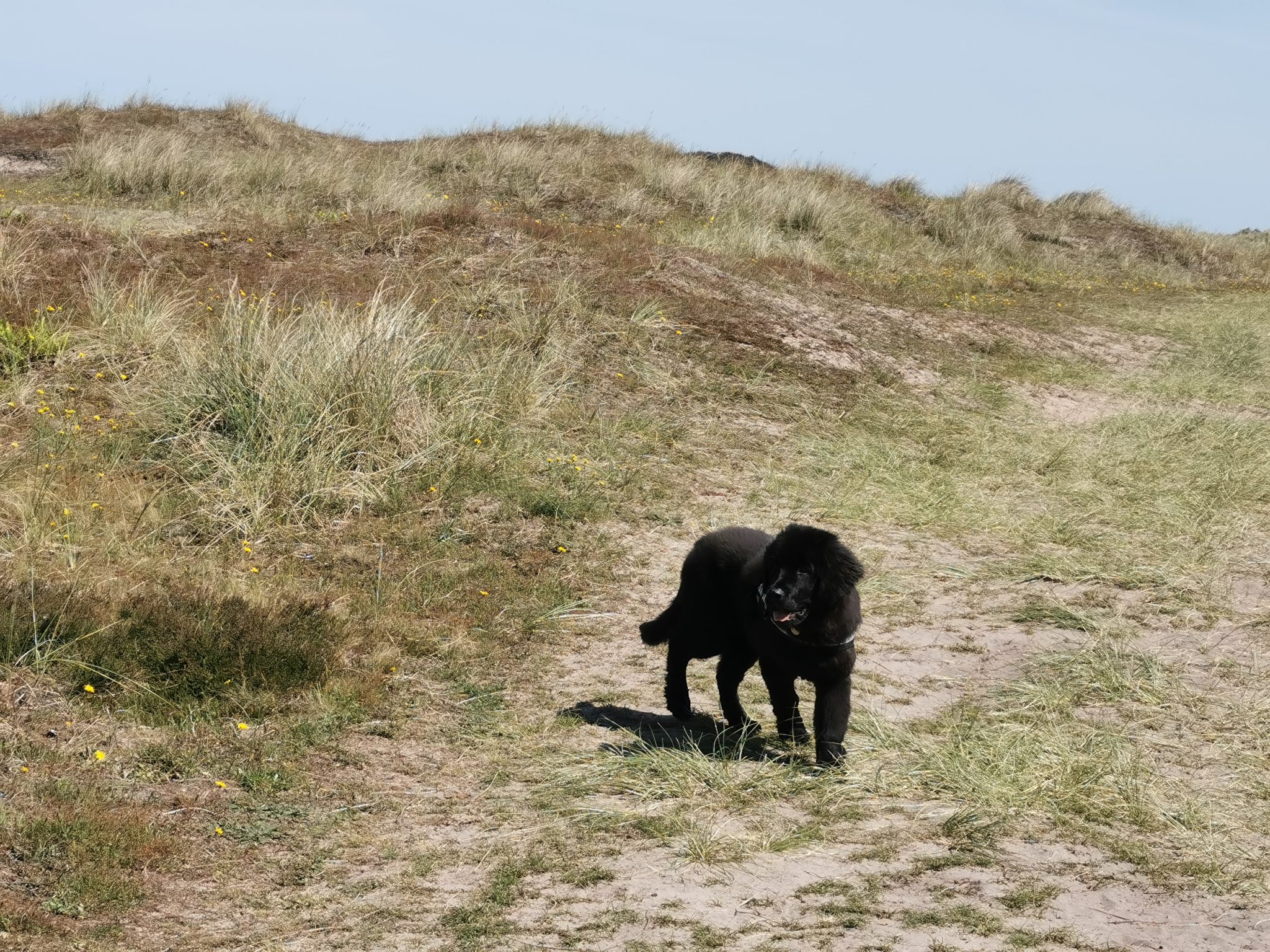 Winterton Beach forms part of the Winterton Dunes National Reserve which means there is a lot of wildlife about and birds nesting, so please be careful not to disturb them.
Winterton has become very popular with a Grey Seal Colony, that comes in the winter months to breed so please ensure you follow the advice from the wardens. Keep your dogs on the lead, and keep a safe distance away when they are present.
There are no restrictions on the beach, other than this. There is also a large grassy car park, and please use the car park, do not park on the grass verges.
Horsey Gap / Horsey Beach
There is a pay and display car park at Horsey Gap, in recent years this area has become increasingly popular due to the large seal colony, do not walk your dog on the beach between October and February as it is breeding time for the seals. If you get too close you will upset the seals.
You can view the seals from the roped off paths in the dunes, but please keep your dog on the lead at all times and listen to the advice from the wardens. If you are unsure how your dog will react to the seal pups, it might be worth considering visiting a quieter beach with less distractions.
Dog Friendly Waxham Beach
A lovely beach with soft, yellow sand. It's beautifully hidden away amongst trees and sand dunes, and with no regular car park and no amenities close to the beach, it's a Norfolk beach that's a real gem, attracting those of you that like peace, quiet and tranquility, so a great place to take a dog who would prefer to interact less!
As with neighbouring Horsey, Waxham beach is a great spot for seal spotting. Grey seals can often be seen bobbing around in the sea and during the winter months they come ashore to give birth.
Waxham Sands Dog Friendly
Adjacent to Waxham Beach, you have Waxham Sands. This is a slightly more popular beach as it has a campsite and holiday park, with easy access to the beach. It also has amenities which is always a plus point. If you're visiting for the day, you're allowed to park at at the holiday park and you can reach the beach that way. Dogs are welcome on both beaches throughout the year with no restrictions.
Dog Friendly Sea Palling
A pretty sandy beach with 9 artificial offshore reefs created as part of a flood prevention scheme. there are just a few restrictions. Dogs are not allowed on a small area of beach in front of the main car park (Clink Road) between May 1st and September 30th. There's a large pay-and-display car park just a short walk from the sand.
Dog Friendly Eccles on Sea
A gorgeous stretch of tranquil golden sands that isn't visited by many people. Dogs are allowed all year round, definitely one to visit.
Cart Gap Dog Friendly
You reach this beach down a narrow single road with passing places. The lovely sandy beach is totally unspoilt and is accessed via a ramp. There are sand dunes here and plenty of space to run about. There is a car park with public toilets, and no restrictions for dogs/
Dog Friendly Happisburgh
Pronounced 'Haze- bruh' it has a stunning lighthouse the only independently owned one in the UK, and next to it is a brilliant playpark with zipwire (which the children loved, whilst the dog happily watched them from the grassy bank outside the play area).
The beach itself is another quiet and peaceful sandy beach but suffers from coastal erosion so you may find it closed off occasionally for safety reasons. An alternative way to get to this beach is to park at Cart Gap and walk down the concrete slip – it's much easier than the sandy slope.
There is a toilet block located next to the park and a large car park, only negative is if you are only planning to stay a short while the pay and display currently does not allow you to pay with cash, it's £1.50 per hour but the minimum you can pay via card is £3, so if you are planning to park here, make sure you plan to stay at least 2 hours, or its quite an expensive hour!
Dog Friendly Walcott Beach
The beach at Walcott is a very pleasant stretch of sand divided up by wooden groynes and backed by a sloping, concrete sea wall. There are dog restrictions on the central part of the beach from 1st of May to 30th September. One of the most striking features of Walcott beach is the fact the road runs right along it, somewhat of a rarity along the east Norfolk coast.
Not only does this provide a great view of the sea as you drive through the village, it makes access to the beach incredibly easy on all but the busiest days and perfect for when some of the teens don't want to go on the beach but the little ones do, you can leave them in the car and still keep an eye on them!
Dog Friendly Bacton Beach
A pleasant sandy beach which stretches all the way to Mundesley in one direction and Walcott in the other. If you fancy the walk there is a pathway along the coast at the back of the beach. Despite there being two caravan sites right by the beach it is never busy at Bacton as there is no shortage of room.
The wooden groynes which divide up the beach make great windbreaks and have the effect of creating lots of little beaches. Bacton is also another great place to catch a glimpse of the seals bobbing around in the sea. There are dog restrictions on parts of the beach from 1st May to 30th September.
Dog Friendly Mundesley Beach
Mundesley is considered one of Norfolk's finest beaches, long and sandy with safe swimming at low tide and all the amenities and charm of a popular seaside resort. Backed by a promenade lined with colourful beach huts. The beach is fairly narrow, particularly when the tide comes in, but it is child-friendly and good for swimming and paddling.
The long stretch of firm golden sand is backed by cliff top gardens housing the smallest maritime museum in the world! The gardens are the easiest way to get to the beach. There are restrictions for dogs on the promenade section from1st May to30th September, but don't worry as the beach is huge and once beyond the restricted zone you can walk for miles.
Trimingham Dog friendly Beach
Trimingham is a very well hidden secret beach, that isn't easy to get to. Located at the end of a steep narrow lane it is easier to park at Mundesley and walk along the coast. Popular with anglers, watersports enthusiasts and dog walkers, the high cliffs are composed of some of the youngest chalk in the UK and its a great place for collecting shells and fossil hunting. there are no restrictions for dogs, so a perfect dog friendly beach.
Overstrand Dog Friendly Beach
Overstrand is a nice, sandy beach when the tide is out however when the tide comes in the whole beach disappears so please check the tide timetable before your visit! You can also walk along the cliff tops but be careful and stay well away from the edge!
There is a dog friendly café on the cliff top with great views overlooking the sea and a car park. There are restrictions on the central part of the beach where the promenade is from 1st May to 30th September, but you can still walk your dog along the prom all year but they must be on a lead.
Dog Friendly Cromer Beach
Cromer is a traditional Victorian seaside resort, with a wide sand and shingle beach popular for swimming and surfing, the section of the beach where the promenade runs is restricted from 1st May to 30th September, but that's the only part dogs can't go on, and you can still walk them along the prom, so long as they are on a lead.
There is a pay and display car park on the cliff top as you enter Cromer, the cafe at the end of the pier is dog friendly and there are lots of places to sit and enjoy the scenery.
East Runton Dog Friendly
East Runton is a long, sandy beach backed by sloping sandstone cliffs and countryside beyond. You can glimpse Cromer's pier in the distance, and in fact you can walk there along the beach in around 10 minutes. There are no restrictions on this beach and it's the best place to go rock pooling in Norfolk. There is a pay and display car park, and a slope heading from there directly onto the beach.
Dog Friendly West Runton
There is a very small section from the East of the Slipway which has restrictions from 1st May to 30th September but it's only a small section so don't let that put you off this lovely sandy beach. Towards the high tide mark the beach is quite shingly, but as the tide goes out a large expanse of fine sand is revealed, along with numerous rockpools.
There is a pay and display car park and a dog friendly café. The beach is great for fossil hunting, including the now famous West Runton elephant. Discovered in 1990, the most complete example of a fossilized steppe mammoth skeleton ever found.
Sheringham Dog Friendly
Pedestrian access to Sheringham beach is from Beach Road down a ramp or via West Cliff Garden. The promenade runs along the top of the concrete seawall defences offering pleasant coastal walks in both directions, from 1st May to 30th September dogs are not allowed on the section of the beach in front of the town (where the promenade is) but you can go to either end of the prom throughout the year as long as your dog is on a lead.
Dog friendly Weybourne
The steeply shelving pebble beach at Weybourne was said to once be the haunt of smugglers as it was easy to land large boats full of contraband here. Be advised the beach is great for angling but not swimming as it gets deep very quickly. There is a good sized pay and display car park behind the beach.
Dog friendly Cley Beach
This two mile stretch of shingle beach is found about 4 miles north of Holt and 1 mile from Blakeney Point. The beach can be reached by car or via a footpath which passes over the salt marshes. The beach has exceptional views on either side and is a popular starting point for a walk to Blakeney Point. The walk is best done at low tide. Dog walking is not allowed in the Cley Nature reserve, although they are allowed on the shingle beach or on trails to the north of the beach.
Blakeney Dog Friendly
Beyond the lowlands of north Norfolk is a strange world of waterways, marshes and lagoons encompassed by a 4 mile long spit of shingle and sand dunes. Designated as a Site of Special Scientific Interest (SSSI), Blakeney Point is now a National Nature Reserve managed by the National Trust. Dogs are not allowed from April to mid-August because of the risk to ground-nesting birds. At other times they must be kept on a lead.
Morston Beach
There is no access to the beach at Morston but what you can do, is take a boat trip to see the seals. this includes your four legged friends, if you're brave enough!. There is a pay and display car park and poo bins by the quayside.
Dog Friendly Stiffkey
The village of Stiffkey is renowned for its saltmarsh which is teeming with wildlife due to its many twisting muddy creeks. It is a conservation area for breeding birds and it's famous for its cockles and samphire. There are lots of paths through the marshes but do be careful; it is easy to get cut off when the tide comes in and it's muddy!
Dog Friendly Wells-next-the-Sea
To get to wells-next-the-sea follow the mile-long road from Wells town or take the Wells Harbour Railway? Wells beach is famous for its decorative beach huts, dogs are not allowed on the eastern end of Wells beach, in front of them. Away from the beach there is a path alongside the pine forest which takes you to Holkham. Facilities include a pay and display car park, toilets and a nice dog friendly café.
Dog Friendly Holkham
Holkham is known as one of the best beaches in Norfolk, famous for movies such as The Duchess and Shakespeare in Love were filmed at Holkham. The beach is a vast expanse of unspoilt golden sand which seem to stretch on forever. In fact it can be a fair stroll to the water's edge at low tide. There are no restrictions for dogs on Holkham Beach. Holkham is also a haven for nature with the beach backing onto windswept dunes, salt marshes and the Holkham Pines, a large belt of pine trees.
Dog Friendly Burnham Overy Staithe
This beach is dog friendly with no restrictions but it is within the Holkham National Nature Reserve so you need to be careful at nesting times. Due to the length of the walk to reach the beach, this isn't a beach which is ever crowded, and your dogs will love it. One of the great dog friendly beaches in Norfolk. However there are no facilities on the beach so make sure you have plenty of water with you and some form of shade.
Burnham Deepdale
There is no access to the beach, but you can walk along the Coast Path to Burnham Overy Staithe or the other way to Brancaster Staithe. There is a nice dog friendly café, an information centre and a campsite. Some scenes from the James Bond film 'Die Another Day' were filmed in the area.
Brancaster Staithe
You can paddle or canoe at Brancaster Staithe Harbour. There is no access on foot to the beach but you can walk along the Coast Path through the marshes. It's important to stick to the path as it can be dangerous to veer off and also very muddy. Ensure you take plenty of water with you as the Coast Path is exposed to the elements and there is no shade!
Dog Friendly Brancaster
Brancaster is a nice, sandy beach. It has a small dog-free zone from May to September to the left of the entrance once you walk onto the beach but the rest is available for everyone to enjoy. This beach is popular in the summer and can get very busy. There is a pay and display car park, toilets and a small snack shop.
Titchwell
You can park at the RSPB car park (charges for non-members apply) and walk along the path through the nature reserve to the beach, dogs must be kept on a lead. It's approximately 1km to get to the beach but it is a very nice walk and the beach is lovely. Drinks and snacks are available at the RSPB visitor centre. Be careful not to disturb the nesting birds in the spring, and be sure to keep away from any cordoned off areas.
Dog friendly Thornham
Thornham beach is one of the most remote beaches in North Norfolk and perfect for lovers of privacy and seclusion. Set in an Area of Outstanding Natural Beauty, this beach requires a walk of just over half a mile in order to reach it, but it's worth the walk and your four legged friend will appreciate the large, quiet beach, which has no restrictions at any time of the year.
Dog Friendly Holme Beach
This expansive sandy beach is big enough and far enough off the beaten track to never get busy, even mid-summer, its a mix of soft sand and shingle. Holme beach was also the site of an intriguing Bronze Age find. In the winter of 1998 a storm uncovered "Seahenge" which consisted of an oak tree stump encircled by a further 55 stumps.
The site was dated around 2000 BC, the stumps were preserved and are now on display at the Lynn Museum. Its also a great spot for sunsets. Dogs are allowed on the beach all year round.
Dog Friendly Old Hunstanton
Old Hunstanton has managed to retain its character as a lovely, uncommercial sandy beach. (not pebbley like Hunstanton) Another part of this coast that faces west so you can be rewarded with stunning sunsets and a sheltered beach. There are no restrictions on this beach for dogs.
Hunstanton Dog Friendly
Hunstanton is the only resort town on the east coast of England which faces west, perfect for sheltering from sea breezes and watching magnificent sunsets. Dog restrictions are in place from April to October from the end of the promenade by the cliffs to the boat launch ramp, however you can take your dog on a lead along the promenade.
No restrictions to the north or south of that section. There are plenty of interesting rock pools for the family to enjoy, and young explorers may be lucky enough to find fossils among the rocks and shingle.
Dog Friendly Heacham Beach
Heacham has two beaches, North (stubborn sands) and South, both of which have toilets, car parks, and snack bars. The water quality at Heacham has been classified as excellent, and the waters of The Wash are relatively calm and shallow. From the beach, whose golden sands mixed with shingle are backed by low dunes, there are views across the bay towards Lincolnshire.
You may smell the familiar scent of Lavender, which is due to the Lavender farm located nearby. Both beaches are dog friendly with no restrictions at any time of the year.
Dog Friendly Snettisham
Snettisham beach is quite popular, but due to the size of it, never appears busy, and in the winter months, you may find yourself the only person on the beach! The extensive sand and mud flats are frequented by various wading birds such as avocets, knots and bar-tailed godwit, There are no restrictions for dogs at any time of the year, making it a great place for an early morning stroll or an evening walk.
Which Beaches Have You Visited with your dog and which ones are on your list for future dog walks on the beach?