Norfolk is an exceedingly popular staycation destination, and for good reason. It is very modest about the wonders it has to offer its visitors, but don't be fooled – because a stay in Norfolk has so much to offer every member of the family. The famous Broads are a must when visiting Norfolk. Maybe hiring your own vessel for the day and gently navigating the waterways whilst visiting some of the stunning traditionally English pubs may be an option. Perhaps surprisingly, Norfolk is home to more blue flag beaches than any other area in the country.
The growing popularity of glamping over the past decade has really opened the opportunity to enjoy an authentic outdoor holiday, to many people who wouldn't, or indeed couldn't, entertain the idea of traditional camping. Whist many glamping sites strive to maintain an atmosphere of " stripping back" day to day life and re-connecting with nature, they do also offer a little bit of luxury to ensure you enjoy the best experience possible.
11 Best Norfolk Glamping Sites
Gorsey Meadow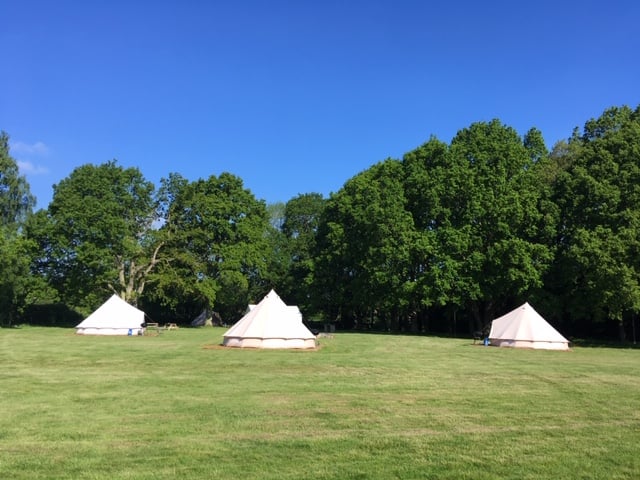 Hockering House, Heath Road, Hockering, Norwich, NR20 3JB
You are sure to enjoy an authentic, memorable glamping experience at Gorsey Meadow. Perfectly located in the heart of the Norfolk countryside, space is plentiful, so you can swiftly unwind and while the younger guests have freedom to run around and explore.
The surrounding countryside offers a habitat to many different wildlife animals, plus there is a bug hotel for you to observe. There are 5 bell tents available, each featuring with double mattresses, high – quality bedding, a gas cooker with gas, a charcoal BBQ, a lantern and plenty more accessories to ensure your stay is as comfortable as possible.
There are two showers available, plus a separate toilet and sink. The location is "off grid ", so there are no electric points, ensuring absolute peace and the perfect opportunity to reconnect with the family without electronics interfering. There is an on-site shop selling all your camping essentials too.
For further information and to book Gorsey Meadow
Pitch Perfect Glamping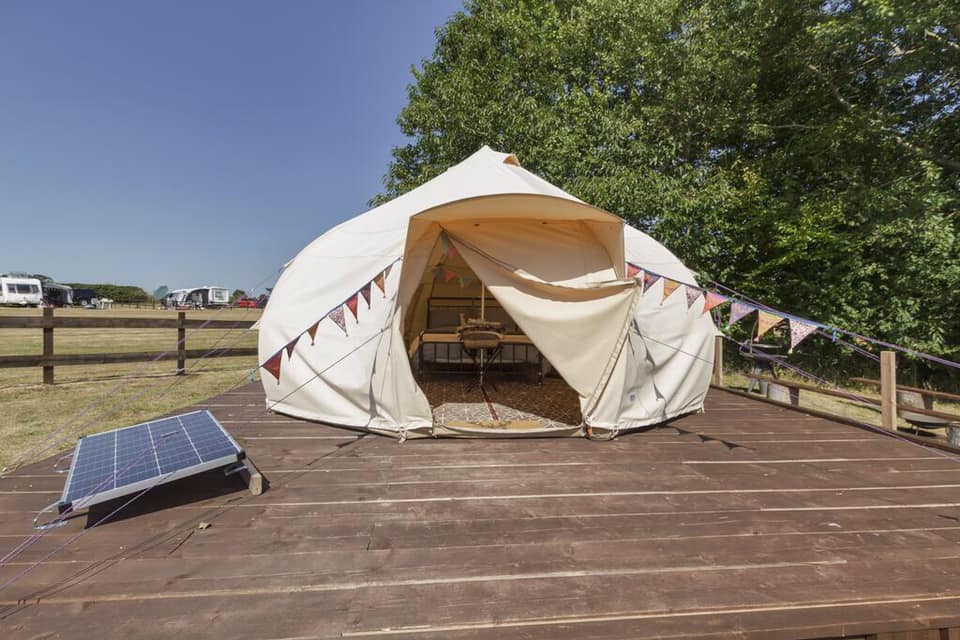 Long Rd, Skeyton, NR10 5DH
At the Pitch Perfect Glamping, they have thought of everything to ensure your stay is one of fun, relaxation and comfort, whilst maintaining their dedication to being as green and environmentally friendly as they can.
There are 5 Luna tents available, each cater for four guests, and all are powered via solar where possible. They are fully furnished, including beds (various sizes depending on your requirements), bedding and linen, a basic field kitchen, and outside you will find a BBQ, and a fire pit, for romantic evening, or traditional stories around the campfire.
There are communal toilet and shower facilities. Some guests may be pleased to know that there is high speed WIFI available throughout the property. There is a pub and restaurant on-site too, so you can enjoy some delicious home-cooked food.
For further information and to book Pitch Perfect Glamping
Glamp and Tipple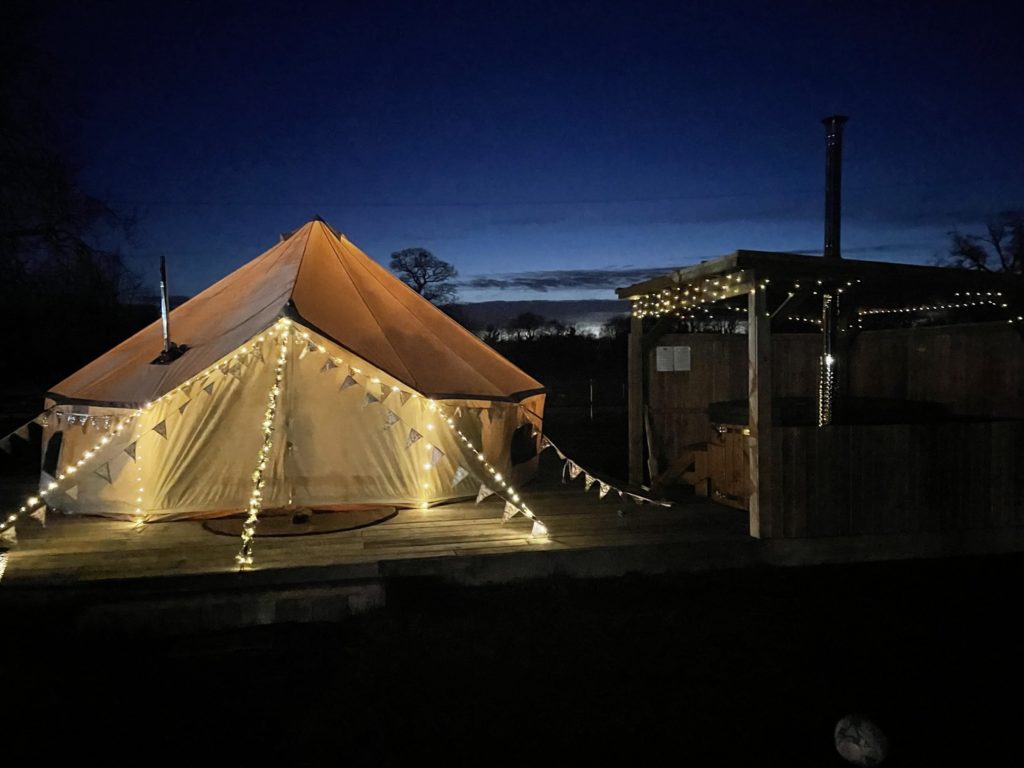 Rookery Farm, Watton Road, NR17 1LB
Glamp and Tipple offer the ultimate in glamping luxury. They have thought of everything, down to the tiniest details, to ensure you glamping experience with them is second to none. They invite you to imagine "your idea of a 5-star hotel room but set within a stunning bell tent!".
A bold statement but judging by the reviews that absolutely rave about this new and innovative glamping location, it seems Glamp and Tipple really do offer something special. There are a total of 5 luxury bell tents available on this working farm location. This ensures plenty of space and privacy for guests to enjoy. Each tent offers the optional use of private wood fired hot tubs.
The luxury doesn't end there though. There are many other optional extras that you can add to your adventure, ensuring the most memorable of experiences. Just a few examples include cinema night within your tent, a private dining pod, on site candle making workshops and gourmet hampers.
The tents are, as you would expect, full furnished to the highest specification, and there are just too many extras to mention! All guests have a private eco-toilet and shower and the on-site bathroom is lit and heated and includes use of hairdryers, towels, and some toiletries.
For further information and to book Glamp and Tipple
Moat Island Glamping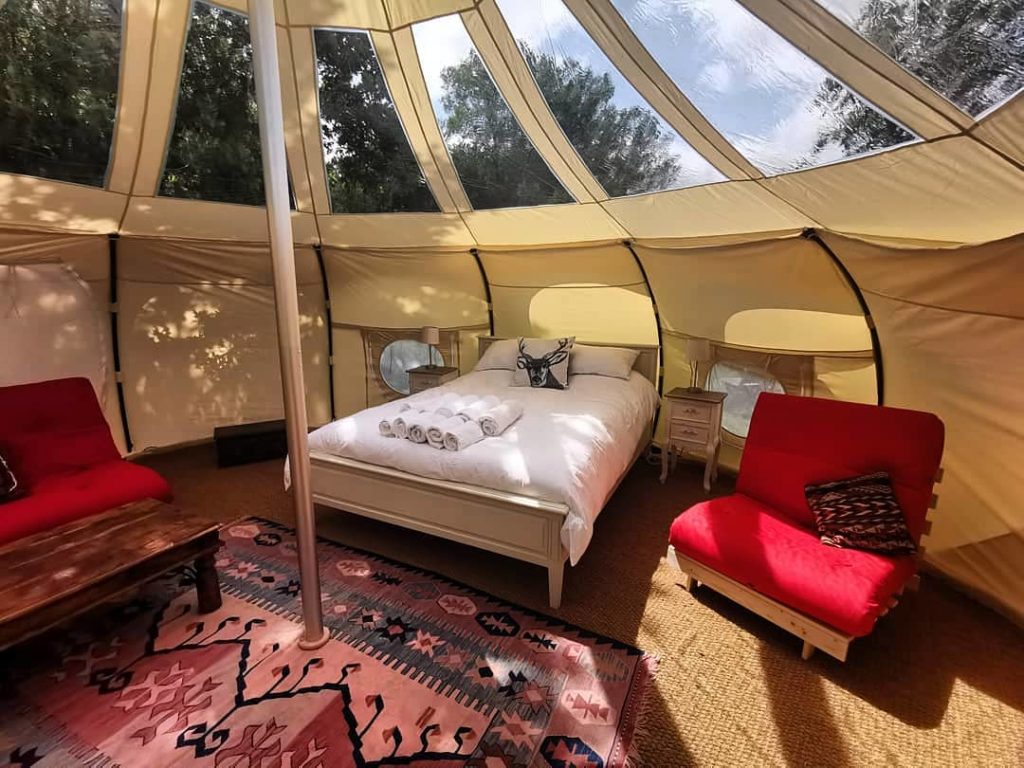 Haveringland, Norfolk, England, NR10 4PN
Moat Island offers you a glamping experience like no other. There are 6 luxury 6m Lotus Belle tents available, and you have the choice of a fully furnished tent featuring beds and a stove, or a completely empty one for you to fill with your own things.
Each tent caters for up to 5 guests, and each comes complete with a fire pit and BBQ area. Two of the tents are particularly special as they feature a completely clear roof so you can gaze up at the night sky. The standout addition offered to guests at Moat Island is the naturally filtered clean water pond, perfect for swimming and connecting with nature.
The communal washrooms feature power showers and flushing toilets, and there is also a camp kitchen which offers use of a cooker, a fridge freezer, and a pizza oven.
For further information and to book Moat Island Glamping
Thompson Hall Retreat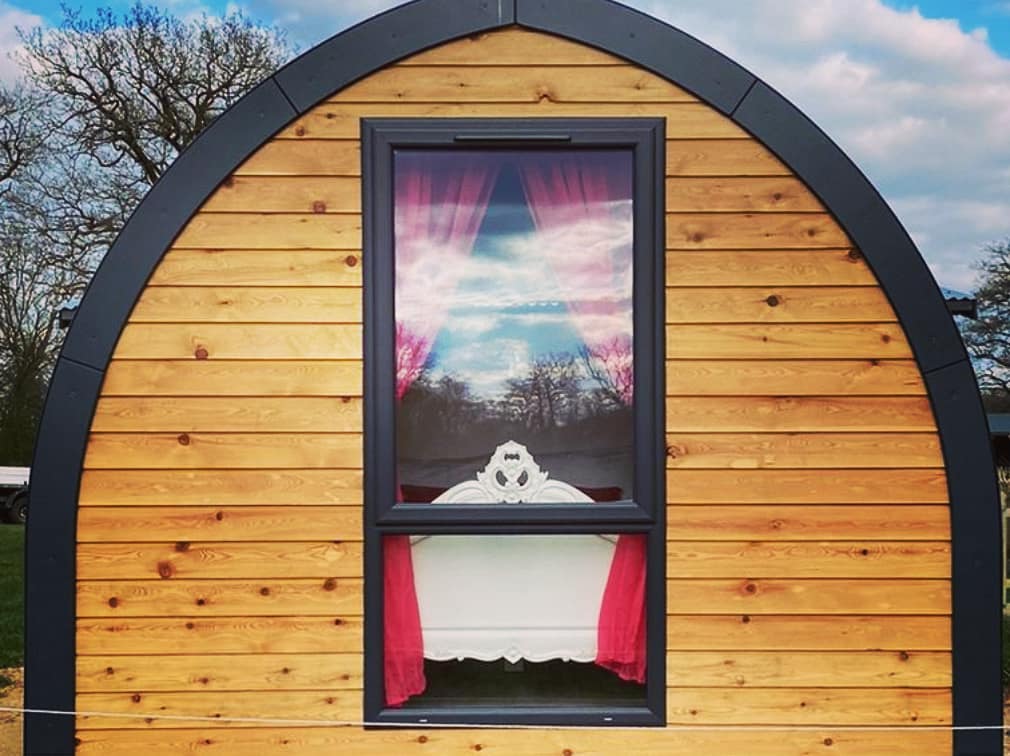 Hall Lane, Thompson, Thetford, IP24 1QA
Thompson Hall Retreat boasts the most stunning and peaceful of locations as it nestles within King Edward VIII Wood. There are two luxury Bell Tents available, both of which are fully furnished to a high and comfortable standard.
This includes a well-equipped kitchen, spacious private bathroom facilities and cosy sleeping areas. Outside you have seating and dining areas, a fire pit and BBQ and stunning views. You can add use of the luxury spa to your stay, to make it extra special.
One of the glamping tents even caters for the canine member of your family too!
For further information and to book Thompson Hall Retreat
Eves Hill Shepherd Huts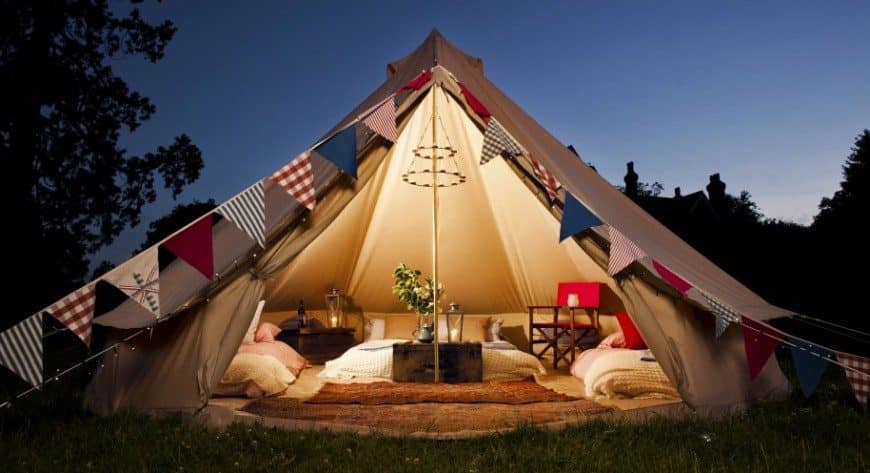 Norwich Rd, Norwich NR10 4TD
Eves Hill Shepherd Huts offer something entirely different. There is the choice of two huts, both cater for two guests and they are be-spoke and designed to ensure the guests that frequent them enjoy a unique and special glamping experience.
Finished to a high standard and offering luxury and tranquillity, the huts enjoy splendid rural views, making them the perfect romantic getaway. Children are not invited, so it is the ultimate grown-up adventure. You really can recharge your batteries and put yourself first.
The huts feature a cosy sleeping area, electricity, a wood burner, and a beautiful outdoor space. There are shared toilet and shower facilities.
For further information and to book Eves Hill Shepherds Huts
North Farm Cottages Shepherd's Hut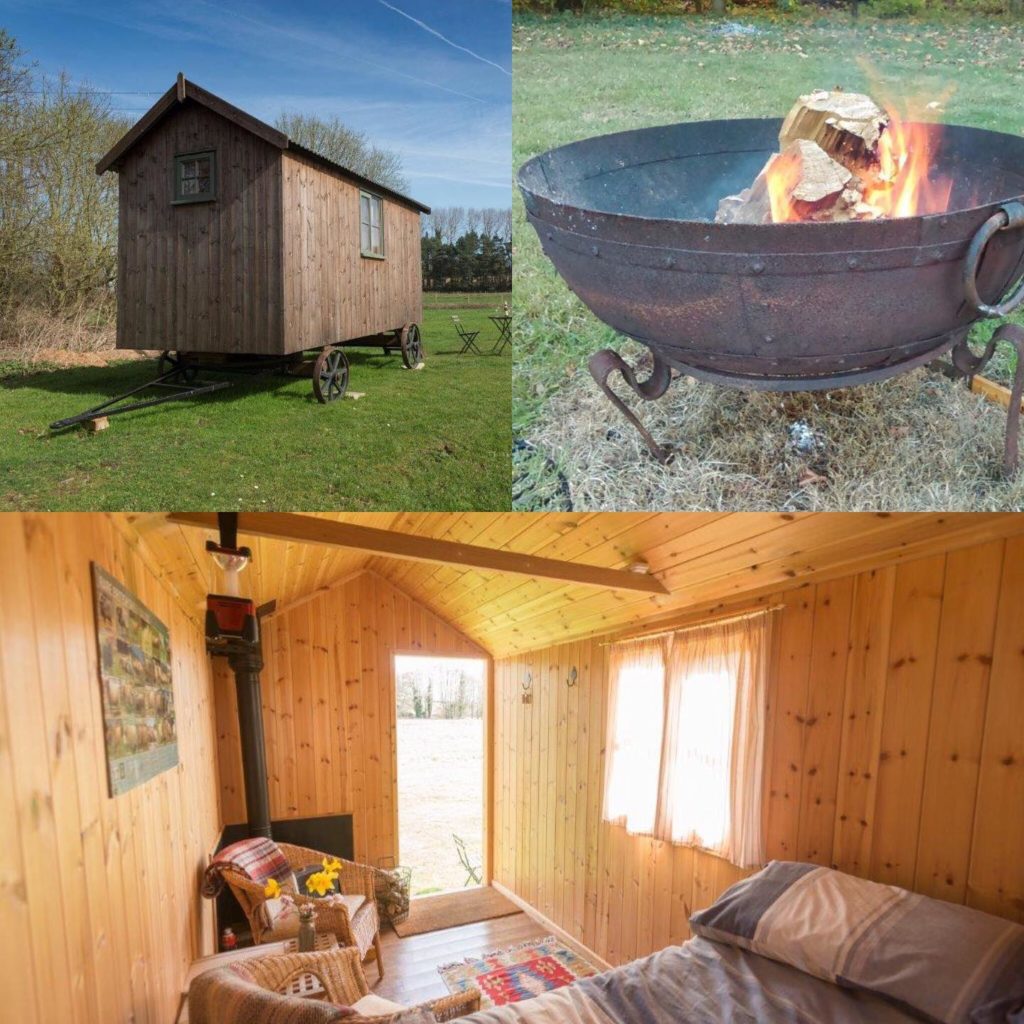 North Farm, Burgh Next Aylsham, Norfolk, NR11 6TW
The Shepherd's Hut at North Farm offers a unique choice of accommodation which effortlessly combines tradition with modern.
The hut is hand-made from wood and insulated with lamb's wool and is mounted on cast-iron wheels. Inside features a bed, dining area, and a stove.
Being on wheels means the hut is mobile, So, during the summer months you can stay nestled away in a meadow, ensuring you experience peace and isolation.
In the winter, the hut is bought nearer to the farmhouse. Cooking and washing facilities are located within the fore mentioned farmhouse. It is worth noting that in the true spirit of camping there is no electricity available in the hut, but there is linen and bedding available for the double bed.
For further information and to book North Farm Cottages Shepherd's Hut
Kings Lynn Camping and Caravan Park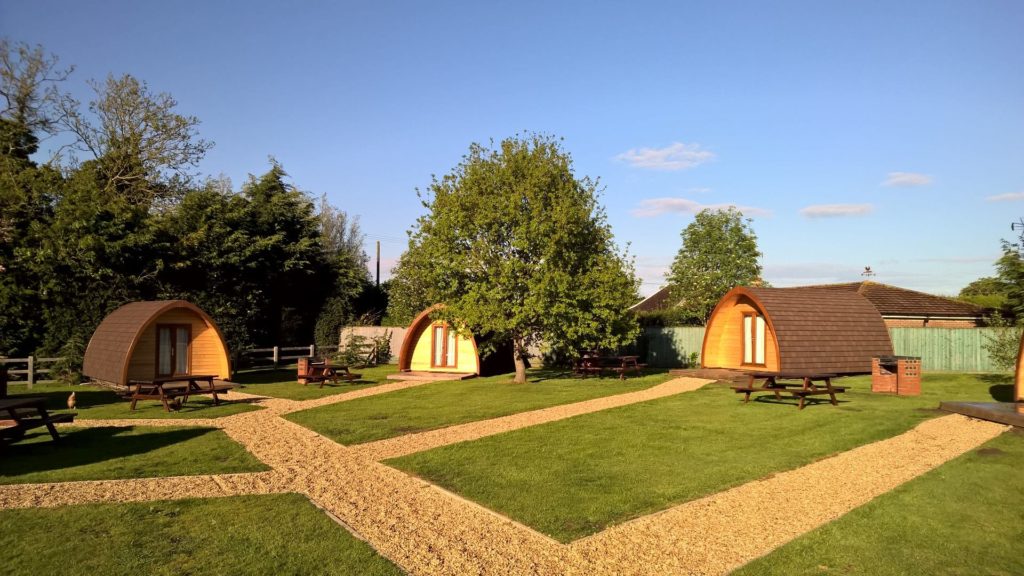 New Road, North Runcton, King's Lynn, PE33 0QR
There are 8 glamping pods at King's Lynn Camping Park. They offer the perfect accommodation solution for those who enjoy outdoor experiences but don't want to sacrifice all their home comforts.
The pods are furnished and include electricity, televisions, and a well-equipped kitchen. You are asked to supply your own bedding and cooking utensils. Outside each pod is a spacious dining and play area.
There is a communal toilet and shower block plus laundry and washing up facilities. For your essentials there is a shop on site and there is also Wi-Fi available.
For further information and to book Kings Lynn Camping and Caravan park
Millview Meadow Glamping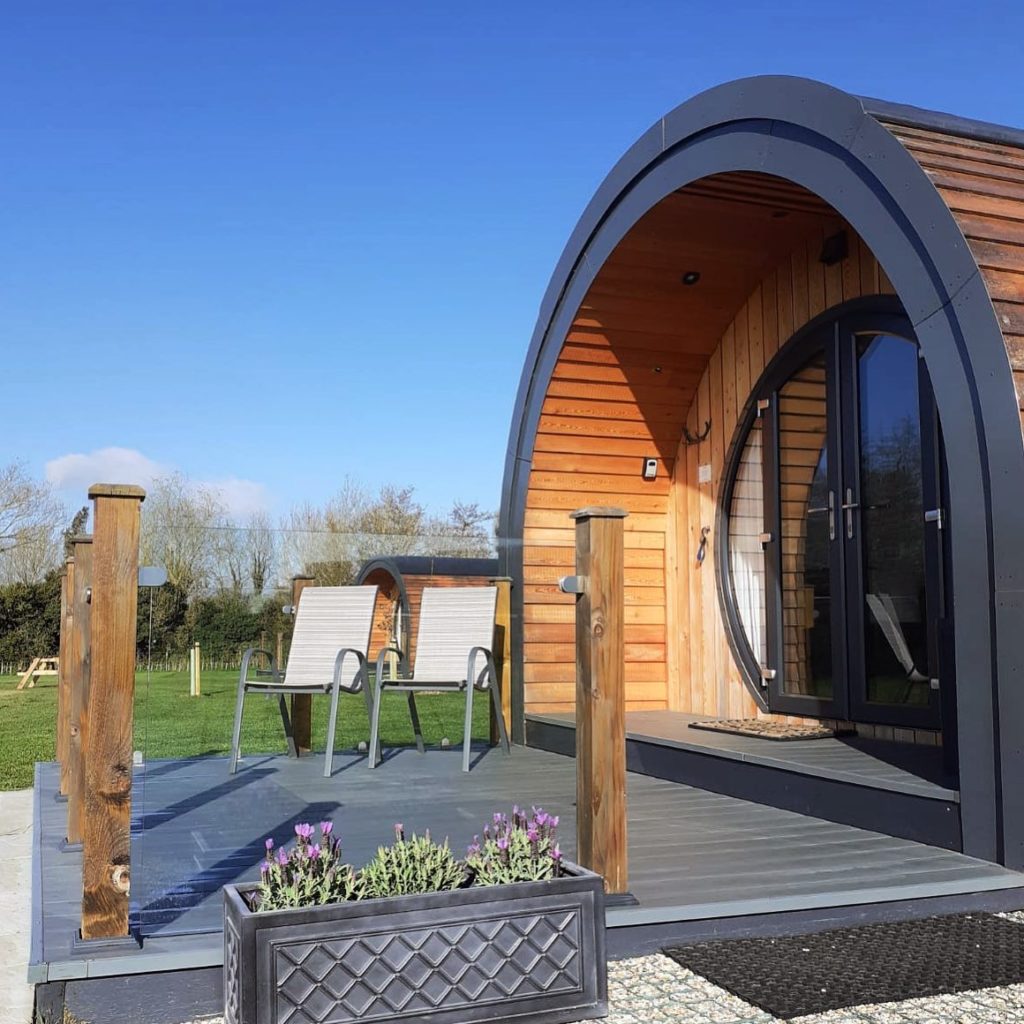 Chapel Road, Runham, Great Yarmouth, Norfolk, NR29 3EG
Millview Meadow boasts a fabulous location, in the heart of the iconic Broads, offering a peaceful and revitalizing destination. There are three fresh, modern glamping pods available, each catering for up to four guests.
The pods are cosy and comfortable whatever the weather as they are heated and insulated. There is the convenience of a well-equipped kitchen area, and outside features private decking, and a firepit.
The pods are complete with electric sockets and even a TV and wifi! Each pod offers a wet room shower area and toilet. Millview even invite (one small) well behaved dog to join you when you stay!
For further information and to book Millview Meadow Glamping
The Grove Glamping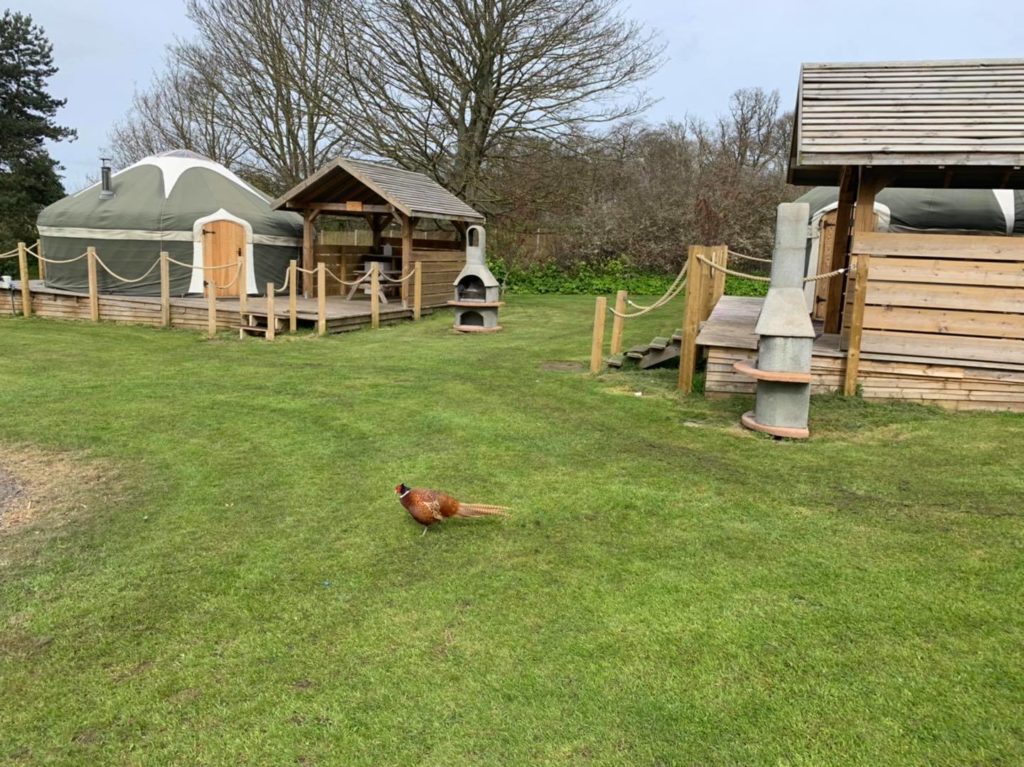 95 Overstrand Road, Cromer, Norfolk, NR27 0DJ

The Grove Glamping offer a range of magnificent traditional Mongolian yurts. Three of the yurts cater for four guests, one that sleeps six and a huge six-meter yurt that sleeps eight guests.
The Mongolian yurts ooze style with their solid oak doors, wooden lattice surround and even a window looking up to the stars. Each yurt is furnished to guarantee absolute comfort throughout your stay. The yurts feature double beds and bunks, as well as a wood burning stove, and even electricity. There are cooking facilities, including an outdoor BBQ.
Yurt guests are invited to enjoy use of the on-site pool, as well as the glorious outdoor space and the communal fire pit. There are washing up facilities provided which include hot water. There are water sports lessons available, as well as use of a lazy hammock area and The Grove boast private access to Cromer Beach too. There really is something for everyone!
For further information and to book The Grove Glamping
Waveney River Centre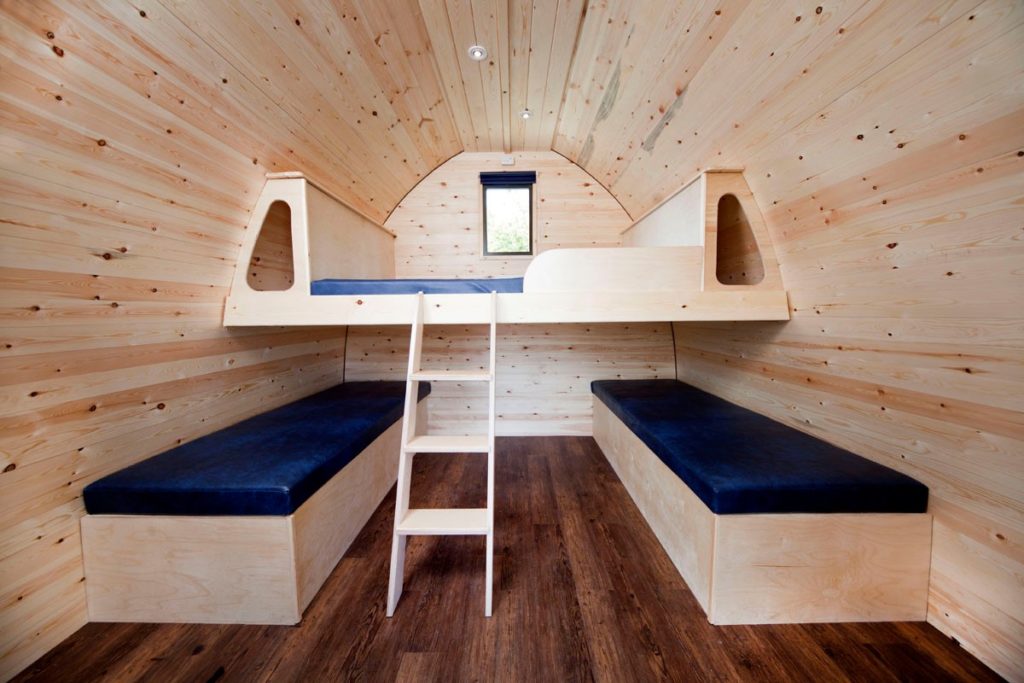 Staithe Road, Burgh st Peter, Beccles, NR34 0DE
The totally unique "escape pods" at Waveney River were designed by the onsite boatbuilders resident at the centre. They have been crafted with the comfort and convenience of the guests in mind.
They are suitable to stay all year, even during the winter months as they feature double glazing, insulation and heating. The pods are designed for 4 guests, as they offer a full-size double bed, plus bunks, although bedding and linen are not provided. There is electricity and a TV.
The pods are conveniently located just a short stroll from the 5 star washing facilities. There are no cooking facilities within the pods, but BBQ's are permitted outside. Glamping guests are invited to make use of the onsite swimming pool, and children's play area, plus there is a pub/restaurant offering local ales and delicious cuisine.
For further information and to book Waveney River Centre
While you are in Norfolk don't forget to check out Dog Friendly Beaches in Norfolk