Seal watching in Norfolk is an amazing site to behold, whether its the adult grey seals basking in the summer sun, or the gorgeous fluffy grey seal pups being born on the beach and sand dunes during the winter.
You are highly likely to spot these amazing creatures if you are visiting the Norfolk Coastal regions, there are many sightings of seals bobbing in the Sea all along the Norfolk Coast, but some places you are guaranteed to see them.
Check out this list of Places to see Seals in Norfolk
Where To See Seals Norfolk During The Summer Months
Blakeney Seals
Blakeney Point North Norfolk is the best place to see seals during the summer months, home to both Grey Seals and Common Seals, the colony here is one of the largest in England.
Common Seals give birth to their young during the months of June and August, so if you are looking for the best place to see seal pups in the summer this is the place!
Blakeney Point is a sand and shingle spit measuring four miles, with its distinctive blue-painted Lifeboat House, is part of a National Trust reserve. It is accessible by foot from Cley car park.
Hunstanton Seals
You can see Seals at Hunstanton in The Wash, there are believed to be over 3,000 Common Seals, but you will need a boat to see them, there are lots of seal trips available to see these beautiful creatures
Scroby Sands Seals
Scroby Sands is home to lots of Seals, which can only be viewed from a boat, there are various boat trips that go from Great Yarmouth Seafront out to Scroby, to view the seals basking in the sunshine or the more inquisitive ones that come and swim alongside the boat.
Titchwell Creek
Another hidden gem I have been alerted to is Titchwell creek, if you don't mind a little walk. Park at Brancaster Beach Car Park and walk left along the beach about 500 metres to the creek and they are usually sunbathing on the banks!
Where To See Seals In Norfolk During The Winter Months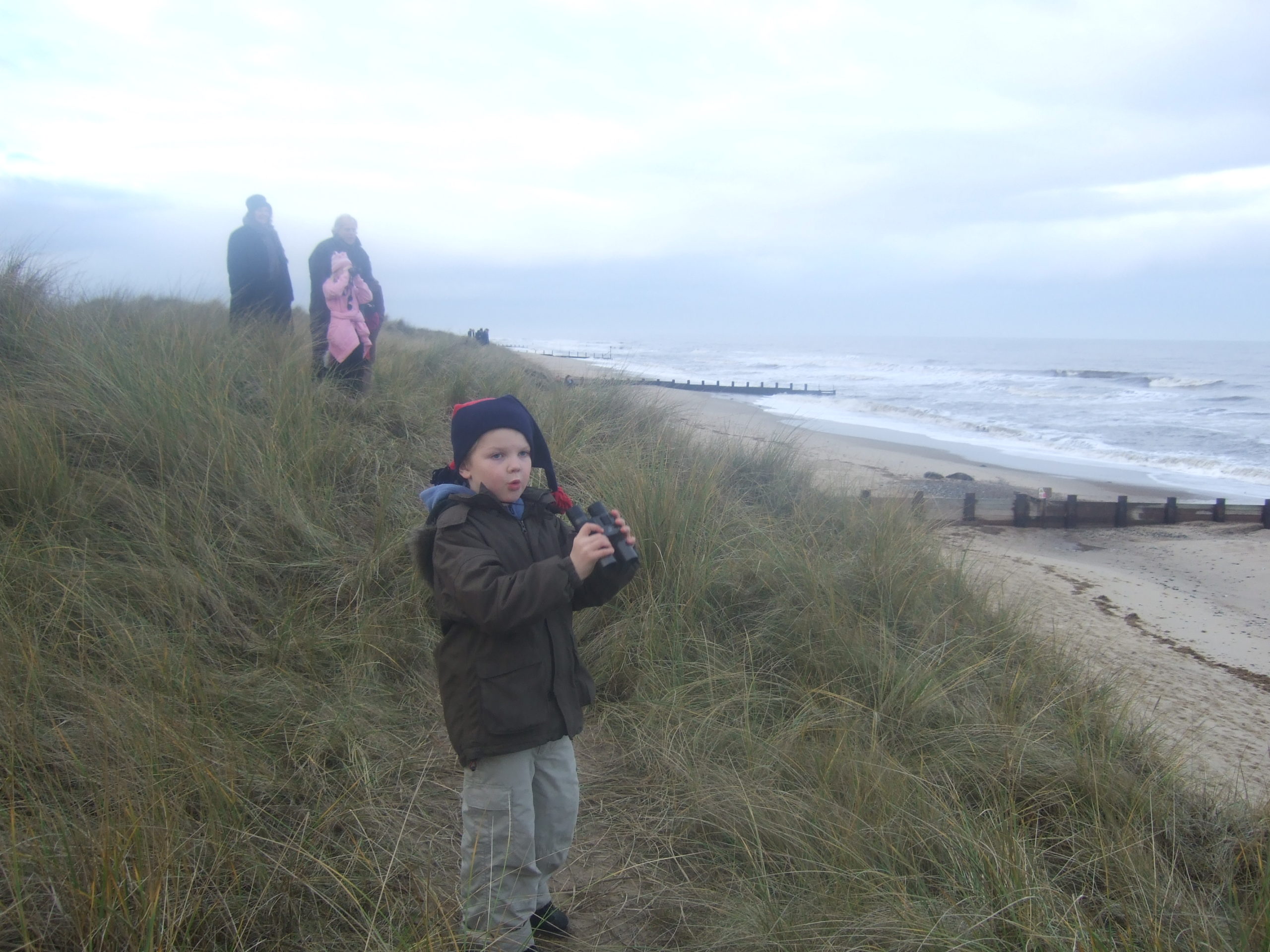 Horsey Seals at Horsey Gap
Between October and February Horsey is one of the most likely places for you to see Grey Seals and their Pups, once across the sand dunes you are welcomed onto a viewing platform, which is erected specifically for these few months of the year for everyone to enjoy viewing the seals.
Horsey gap is one of the most popular places to view the Seals and their young in Norfolk, I can remember visiting Horsey beach many years ago, and the numbers have continued to increase each year.
In this area you are not restricted on how long you can stay, or how far you can walk, there are many roped off areas, to keep both you and the seals safe, but you are able to spend as much time as you wish viewing these amazing creatures.
Wheelchair and Pushchair access is not very favourable at Horsey gap, and when we visited, we took the youngest in a backpack to avoid the need to take the pushchair.
The Horsey Seals pupping season begins from End of October/beginning of November and continues until February, giving ample time for you to visit the Seals in Norfolk and take in this glorious sight.
The summer months allow you to go down onto the beach, but from November through to January you are not permitted onto the beach, and must view them from the roped off areas on the dunes.
This is to protect the mother seals whilst they are giving birth to their young, already in 2023 there have been some deaths of pups as their mothers have abandoned them due to people and dogs getting too close on the beach.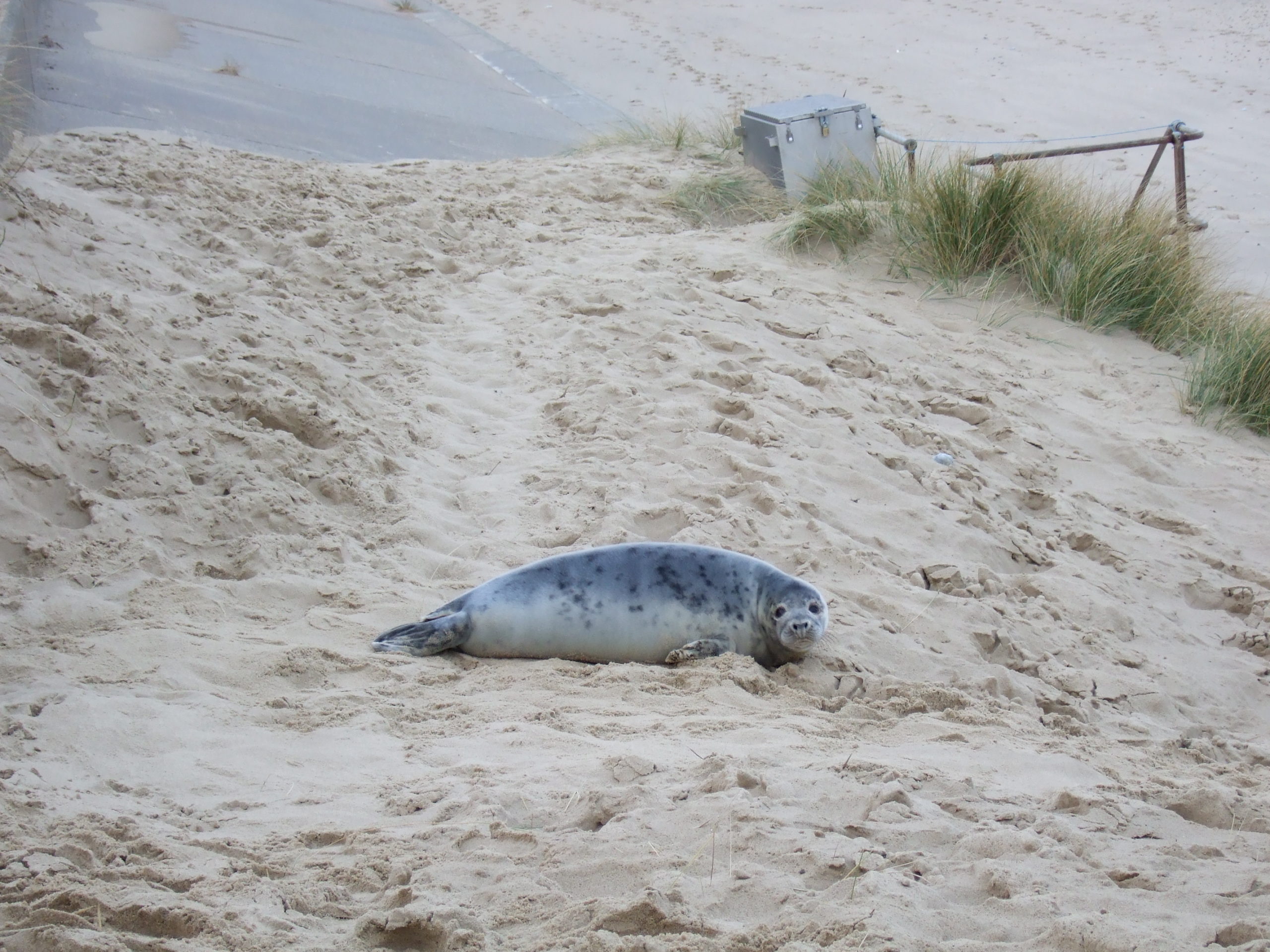 Winterton Seals
Further along the Norfolk Coast is the lovely village of Winterton-on-sea, we know it very well as Asa's parents used to live there, although the Seal colony at Winterton has increased dramatically since they lived there.
It is a lovely beach both in the winter and the summer, with a backdrop of the stunning dunes, there is a car park at the end of the village for people to park.
Although please note it gets extremely busy, and the roads nearest to the beach are for residents use and are very narrow, so not really suitable for extra traffic.
If you are considering visiting the Seals at either of these destinations, you can find out more by visiting the Friends of Horsey Seals website who have lots of volunteers that help to keep the seals and their young as safe as possible.
Already this year there have been reports of pups abandoned by their parents as visitors got too close, and one case of a seal pup drowning as some children chased it into the sea, and it's fur was not yet able to cope with the water.
So if you are planning on visiting these wonderful creatures, please adhere to the barriers, and follow the instructions carefully, they are for your protection, as much as the seals.
Waxham Seals
The next beach along from Horsey is Waxham, which is also another place to spot seals swimming in the Summer months, but a few can also be seen giving birth to their young during the winter months, not as busy as Horsey or Winterton, but still a lovely place to visit and catch a glimpse of the seals.
Seal Watching Norfolk Tips
These are magnificent, stunning creatures, that look all cute and fluffy, but if they feel threatened can be quite dangerous, so there are certain rules you need to follow.
Keep Your Distance
Maintain a distance of at least 10 metres, these animals may look sweet, but we have to remember that they are wild animals.
Never Come Between A Mother and Her Pup
You should never stand between a pup and it's mother, as this may cause the mother to abandon her pup before it is old enough to fend for itself.
Dogs On leads At All Times
At present dogs are still allowed on the beaches where the seals are, but they should be on a short lead at all times, this is to keep both the dog and the seals safe, a seal has a nasty bite if it thinks you are going to hurt it's young.
Do Not Chase Pups or Seals
If a young seal pup is chased into the water whilst it still has its fluffy white coat, it is at risk of drowning due to its coat not being waterproof.
No Selfies!
If you get too close to the seals they are very likely to attack or even worse, abandon their seal pups, taking photographs of these stunning creatures is possible via a camera zoom, you do not need to get too close.
Take Your Rubbish Home
This year there have been 140 seals rescued by volunteers, many of whom who have been necklaced because of plastic waste in the sea or who are suffering from illnesses. So please ensure you take your rubbish home with you, or place in the bins provided.
Observe the signs and keep at least the required distance away from the seals, no up close selfies, these creatures are wild animals and will attack.
If you see a seal that looks unwell, or is in distress or difficulty, then call 07706 314514
Boat Trips To See The Seals In Norfolk
Beans Boats – Daily boat trips to see the SEALS & BIRDS in their natural environment at BLAKENEY POINT
Temples Boat Trips – All seal trips last approximately one hour with landing on Blakeney Point lasting for an additional 30 – 60 minutes.
Bishops Boats – Daily boat trips to see seals at Blakeney Point
Ptarmigan Boat Trips – A traditional clinker built ferry boat "Ptarmigan" will take you on a fascinating voyage through Blakeney Harbour to the seal colony on Blakeney Point.
Searles Sea Tours – Searles Sea Tours run unique and exciting seal safaris and coastal trips, two famous amphibious vessels, the Wash Monsters. Departing from the central in Hunstanton, each tour provides a truly fascinating and fun way of discovering the local seal population.
Boat Trips To See the Seals From Suffolk
Jet Adventures Scroby Sands – Take an exciting sightseeing and nature trip, departing from the MTB 102 Trust, a steady trip out to sea through Lake Lothing and Lowestoft Harbour, heading north at speed to Scroby Sands. The trip takes approximately 1 hour 45 minutes you can find out further information HERE
Jet Adventures Horsey Beach – Depart from MTB 102 Trust and take a trip through Lake Lothing and Lowestoft harbour, to the most easterly point and the very impressive Gulliver Windmill, past the coastline of Corton, Gorleston, Great Yarmouth, past Scroby Sands and the wind farm onwards to Horsey Beach. The trip takes approximately 2 hours 30 minutes you can find out further information HERE