With the entire country currently in lockdown, and everyone only allowed to exercise in their local area, many of the places that you would usually visit to view the spectacular snowdrop carpets are currently closed, however there are a few places that you can find the beautiful white flowers, here are a few of the Snowdrop walks Suffolk has to offer.
Snowdrop Walks Suffolk 2021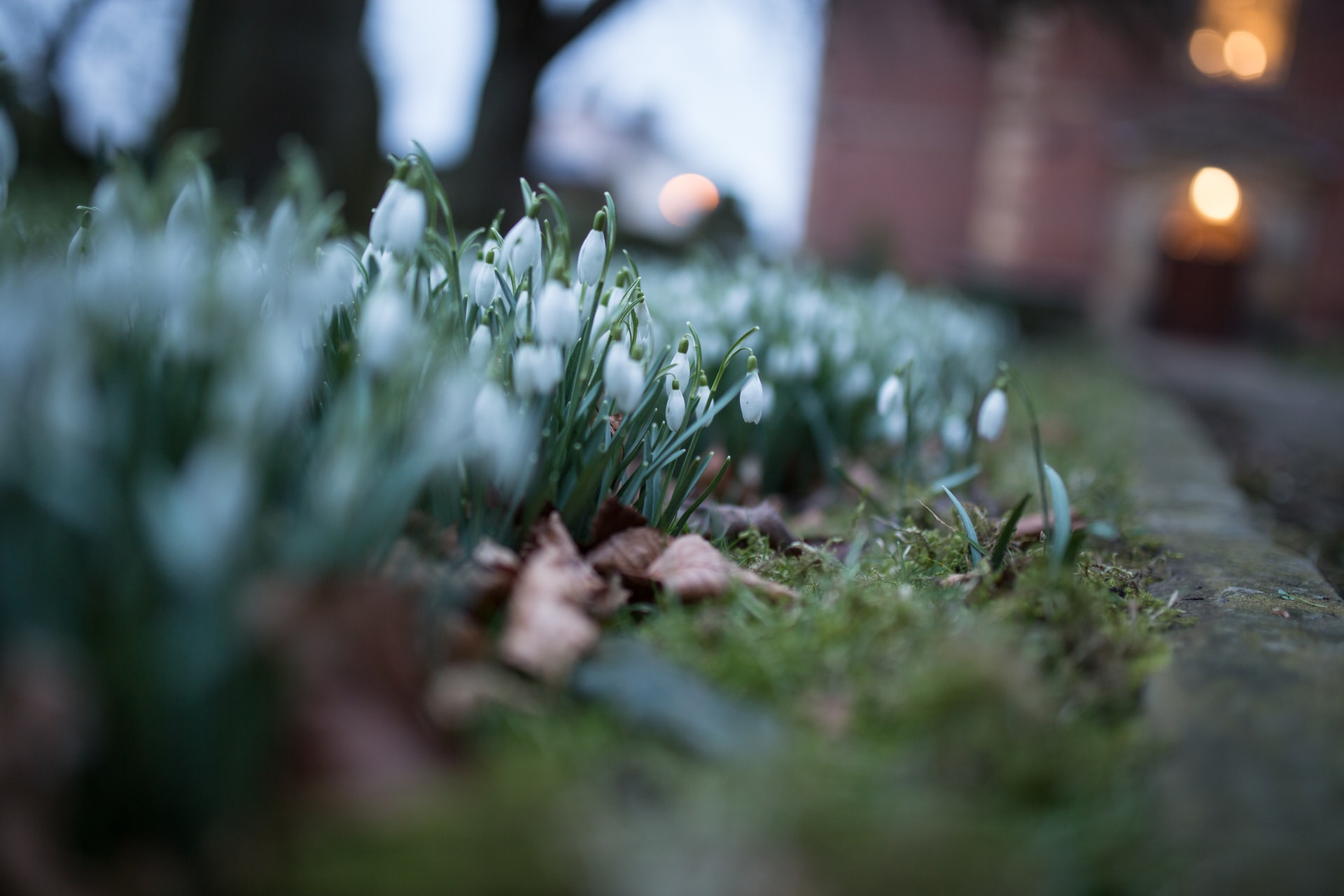 Address: Long Melford, Sudbury CO10 9BA
Opening Times: 13 Feb – 28 Feb. 11:00 – 15:00
Spring is a lovely time to visit Kentwell's Gardens. The Shrubbery and Back Wood are carpeted with Snowdrops, with little pockets of Aconites. The rest of the Gardens are charming as their winter starkness is banished by emerging springtime shoots. Winter scented plants such as mahonia, sarcoma and hellebore also make an appearance.
We recommend you dress for the weather – our pathways can become a little muddy after prolonged rainy periods. However, this is great news for our younger visitors, as it means there are puddles galore!
The Nature Trail Wellie Walk will take your family on a fun adventure to explore the shrubbery, the woods and the gardens.
Please pre-book your visit (any time up to 10.30am on the day of your visit) and please arrive in good time to get the most out of your visit. You are welcome to arrive at any time from opening time until our last entry at 1.30pm. The Gardens will close at 3pm.
Please note that advance booking is essential as we will be strictly limiting numbers on site. We regret we will not be able to offer tickets to buy at the gate, as we cannot go above our maximum safe numbers. We ask that you pre-book so we have your full contact details.
Address: The Rotunda, Horringer, Bury St Edmunds, Suffolk, IP29 5QE
Opening Times: Daily 10.00- 16.00. In line with government guidance, outdoor spaces only at Ickworth are open for local visitors to access walks. You will need to book your visit in advance.
This impressive 18th century country house near Bury St Edmunds is surrounded by tranquil parkland and it is there that you will find carpets of snowdrops. Along Lady Geraldine's, Erskines and Albana Walk the snowdrops are complemented by the bright golden hues of their next door neighbours, the aconites.
The National Trust also has a number of dedicated walks throughout winter where you'll be able to get the best views of this delicate flower as it comes to life in the new year.
Address: 16, Red House Yard, Gislingham Rd, Eye IP23 8HH
Opening Times: 9am – 4pm
Located in north Suffolk on the River Dove, snowdrops will begin to emerge every new year across the 2000 acres of parkland that make up this grand estate.
In total there are over 12 miles of walkable tracks open to the public as well as a walled garden and a café to provide refreshment after a long countryside walk. The Henniker-Major family have looked after the site for over 200 years and to this day they ensure the woodland, rivers and meadows are preserved for future generations.
The main eco-toilets at the entrance to the surfaced footpath will remain open, and are cleaned daily. However, please maintain vigilant hygiene and use the available hand sanitiser before and after use. Please respect our visitor code: dogs must be kept on leads, do not litter, respect the natural environment. Thornham Walks operates Pay and Display car parks. This income is essential to the continued management and operation of Thornham Walks.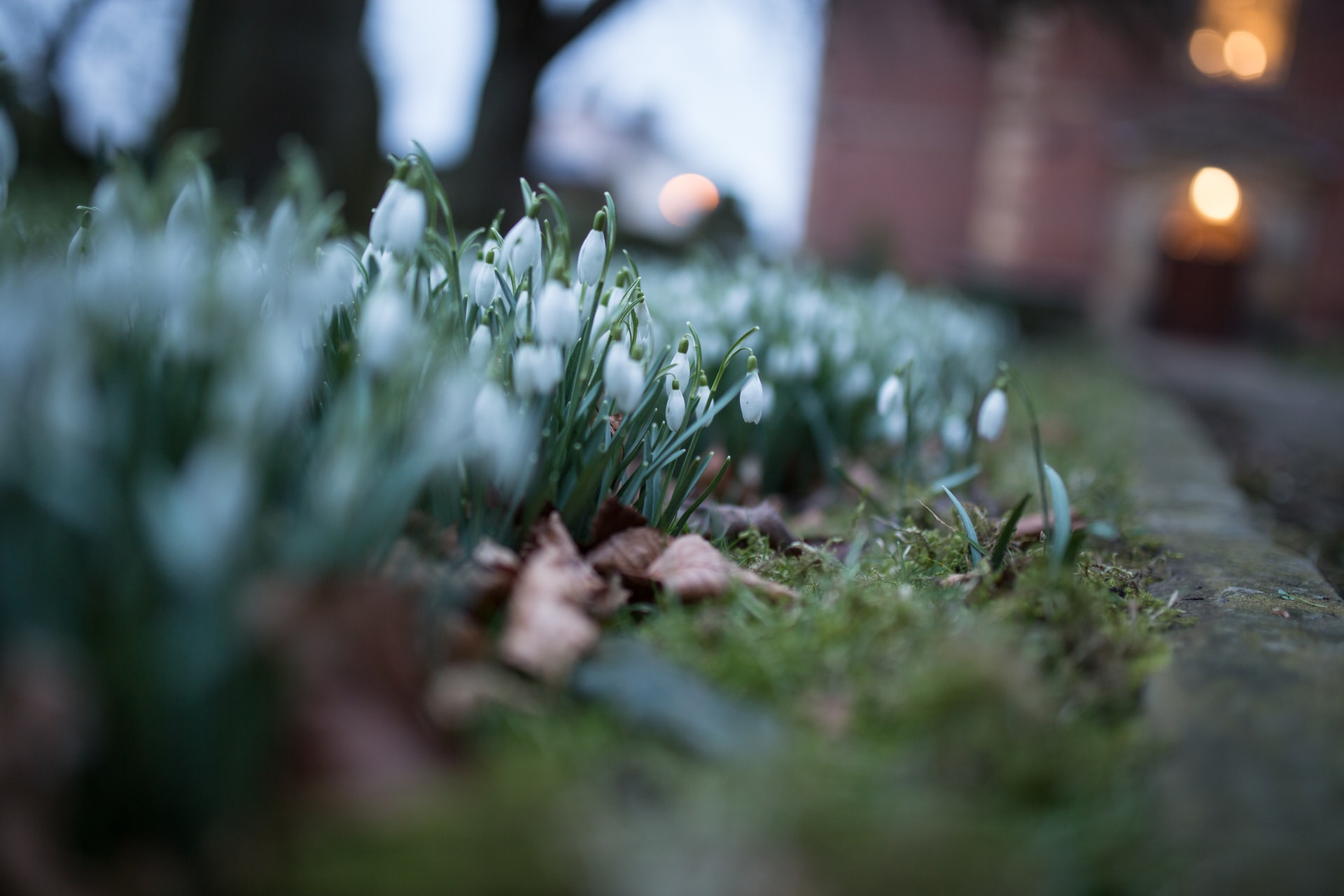 Address: Felsham Road, Bradfield St George Bury St Edmunds Suffolk IP30 0AQ
Opening Times: Open All Year
Snowdrops are just one of the 370 species of plant that grow in a woodland area many consider to be one the finest examples of ancient forest remaining in Britain. Located 15 minutes away from Bury St Edmunds, a number of walks criss-cross the area, giving you many options for snowdrop spotting.
address: Bury Road Nowton Bury St Edmunds Suffolk IP29 5LU
Opening Times: 8am – 6pm daily
Despite being most commonly known for its enormous display of 100,000 daffodils, this park on the outskirts of Bury St Edmunds also possesses snowdrops and other wildflowers in their wildflower meadow.
Don't forget to check out Snowdrop Walks in Norfolk