Suffolk is a county in the east of England and borders Norfolk, Cambridgeshire and Essex. It is probably most famous for the extensive archaeological discoveries that have been found throughout the county, most notably artefacts from the Bronze Age at Mildenhall and Anglo Saxon remains at Sutton Hoo.
Many people visit Suffolk hoping for a quintessentially English experience and few leave disappointed. Suffolk is a hive of activity throughout the year and is well known for hosting live music festivals, for its charming coastal towns, and local breweries. There is no shortage of things to see and do in Suffolk. Why not enjoy this fabulous county whilst treating yourself to a stay in one of the following luxury hotels Suffolk has to explore.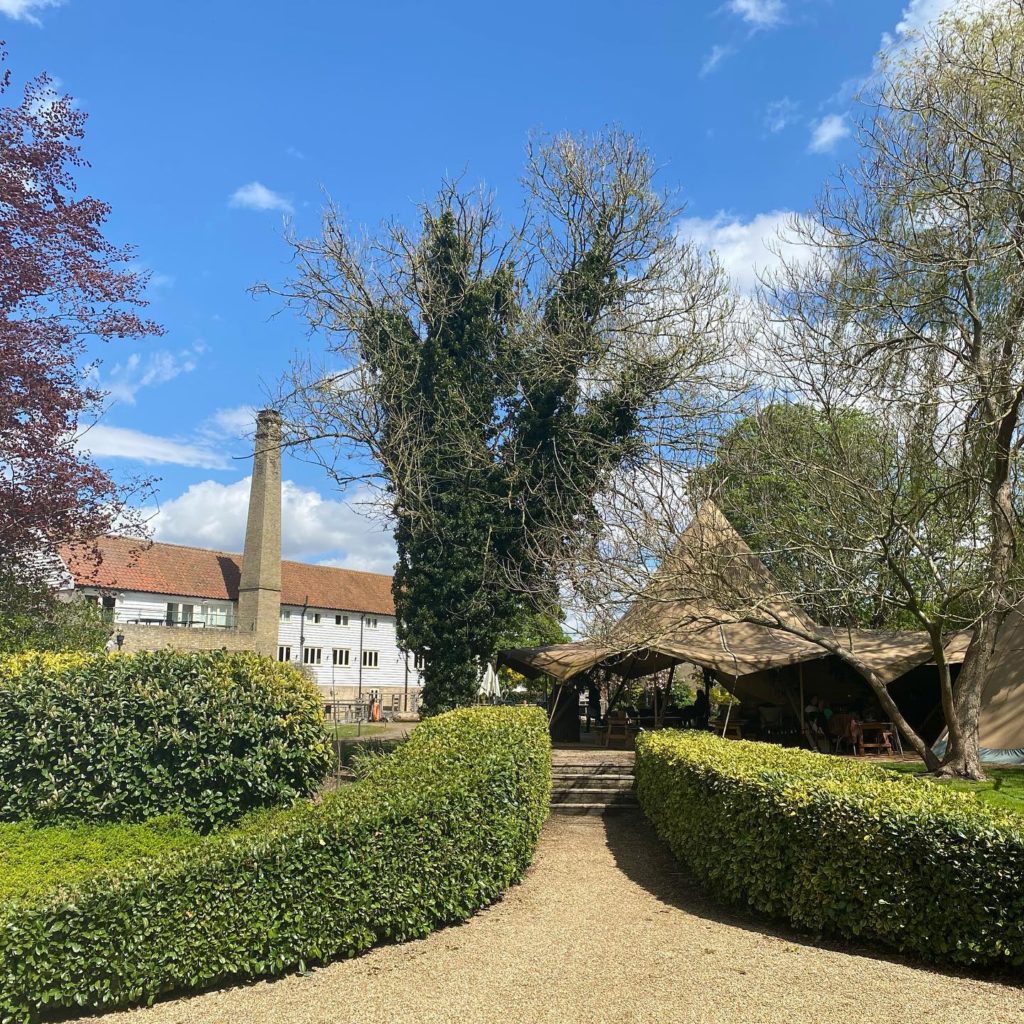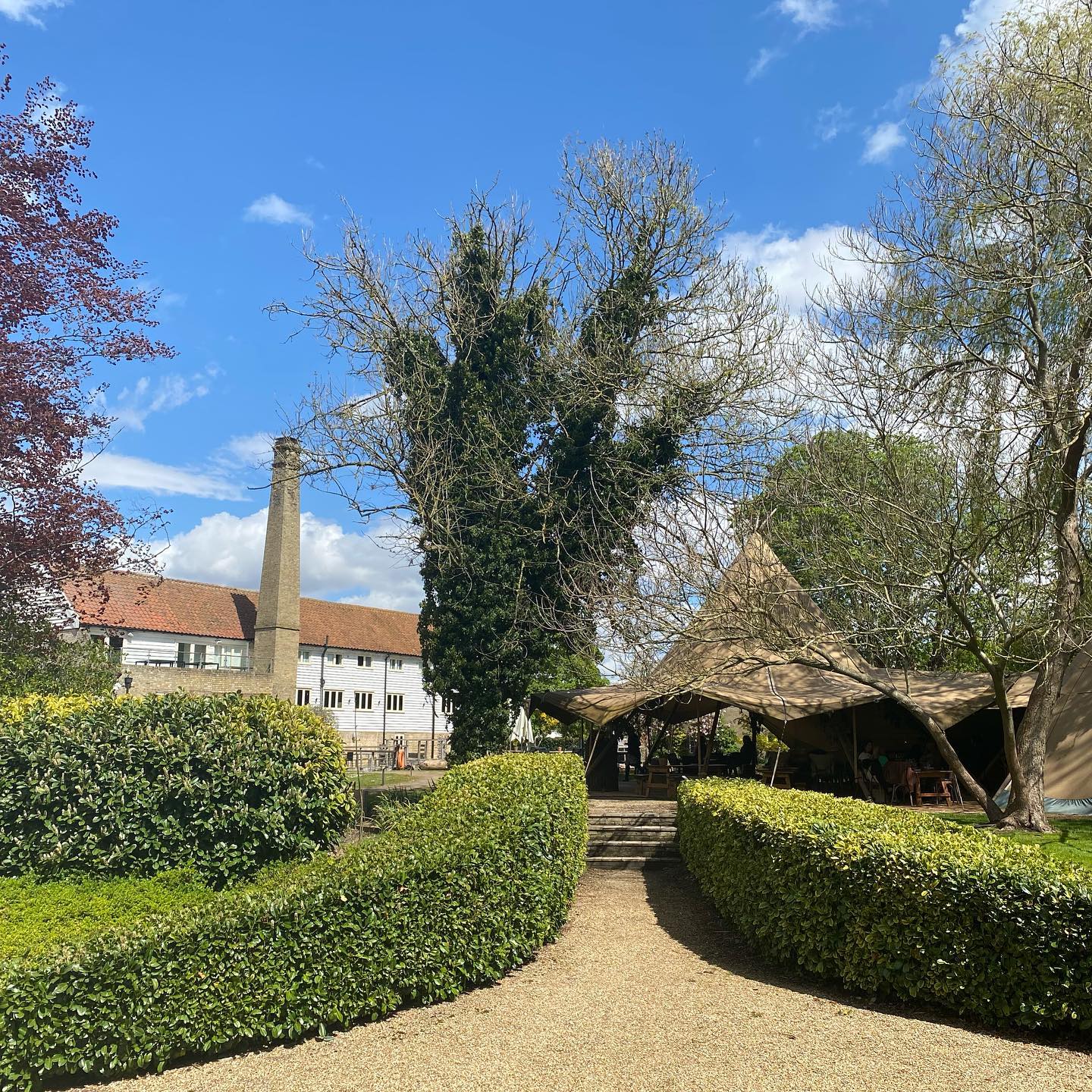 High Street, Tuddenham., Tuddenham, IP28 6SQ
Tuddenham Mill Luxury Hotel is a converted watermill building. It has been tastefully renovated to the highest standard, whilst maintaining its original charm by celebrating exposed beams and the impressive 17th century watermill. The mill, set in 12 beautiful acres of countryside oozes style and offers 21 stunning guest rooms, all elegantly furnished. The onsite restaurant has won numerous awards and offers fine dining in a relaxed atmosphere. The passionate chefs use fresh locally sourced ingredients to create dishes of exceptional quality and inspired creativity.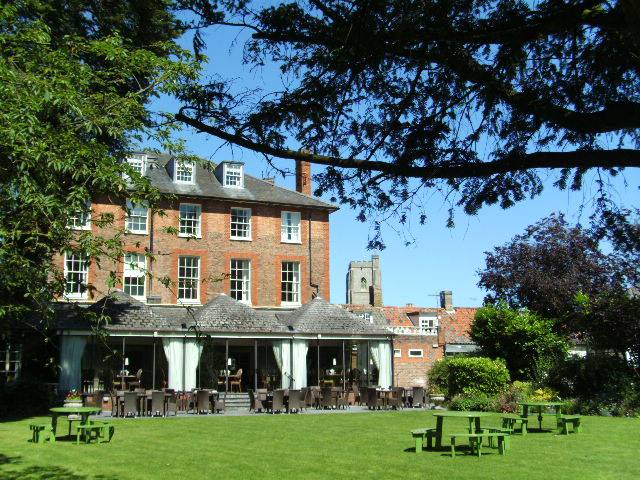 17 Mill Street, Mildenhall, IP28 7DP
The Riverside House Hotel effortlessly combines its beautiful original features with contemporary style and grace. Dating back to 1720, this magnificent building offers the ultimate in luxury accommodation and fine dining. Rooms are available in various sizes, from cozy doubles to spacious family rooms. All offer complete comfort. The onsite restaurant offers bistro – style cuisine in a relaxed environment with views overlooking the magnificent grounds. There is also an extensive wine list available.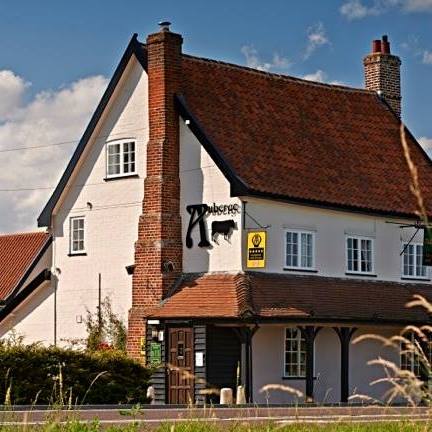 Ipswich Road, Yaxley, IP23 8BZ
At The Auberge you are promised world-class service. It may be small, but this charming hotel has been tastefully renovated and offers endless character and sophistication. Each guest room has been thoughtfully furnished and offers a superior level of comfort. The onsite restaurant features the original beamed partitions and walls providing wonderful ambience and from the kitchen you can expect high quality cuisine to suit every culinary desire.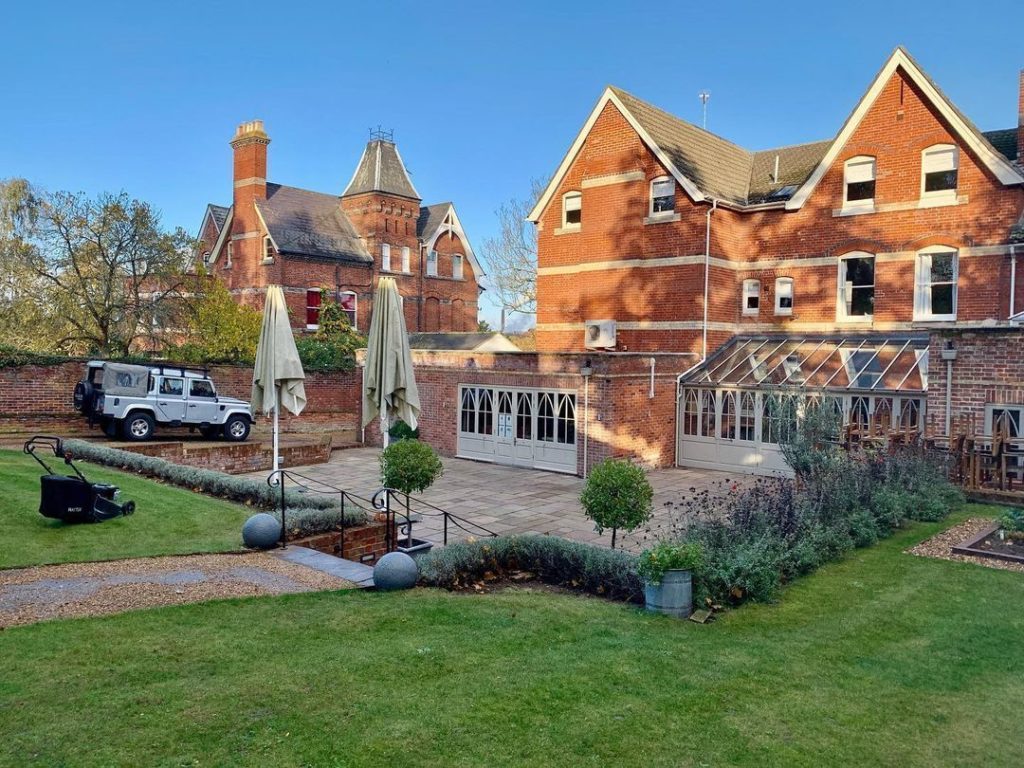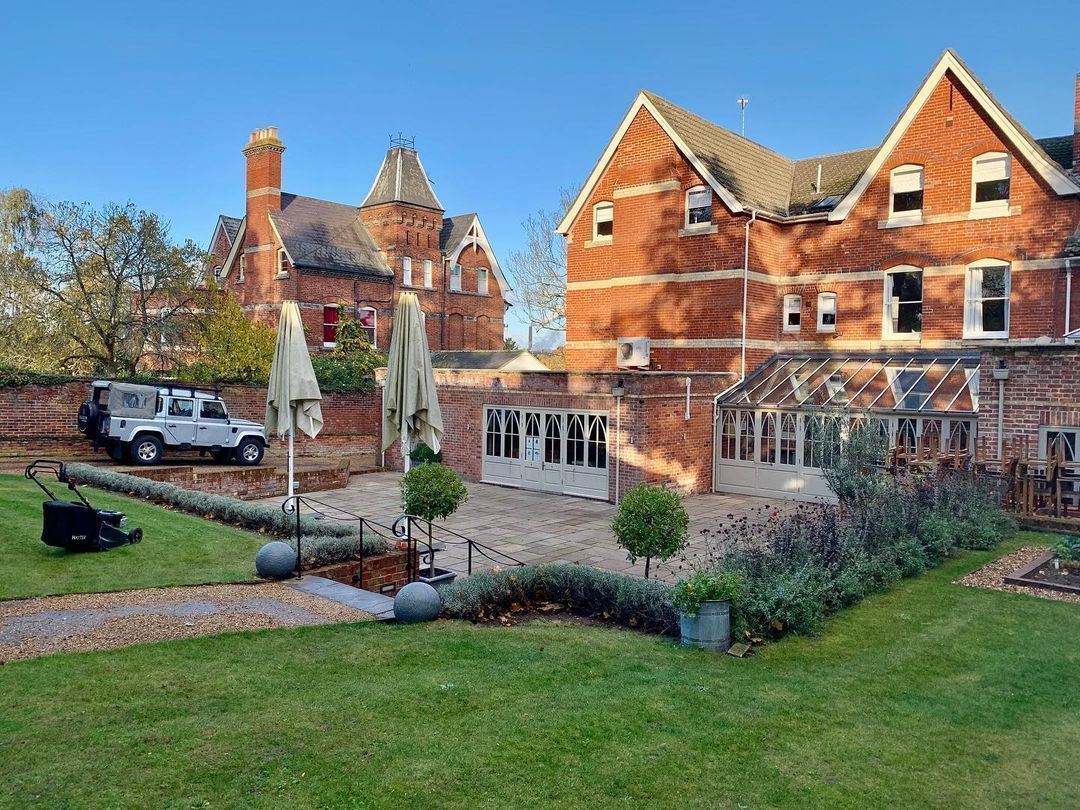 Northgate Street, Bury Saint Edmunds, IP33 1HP
This striking Victorian townhouse has been effortlessly transformed into a trendy hotel and restaurant. Enjoying a superior position in the heart of Bury st Edmonds, The Northgate offers double king and twin rooms, each furnished thoughtfully with an emphasis on luxury, comfort and relaxation. The restaurant presents a modern vibe and is the only one in Bury st Edmonds to offer a Chefs Table. You care invited to take the best seat in the house, soak up the atmosphere and watch the Chef and his team put their passion and skills to work.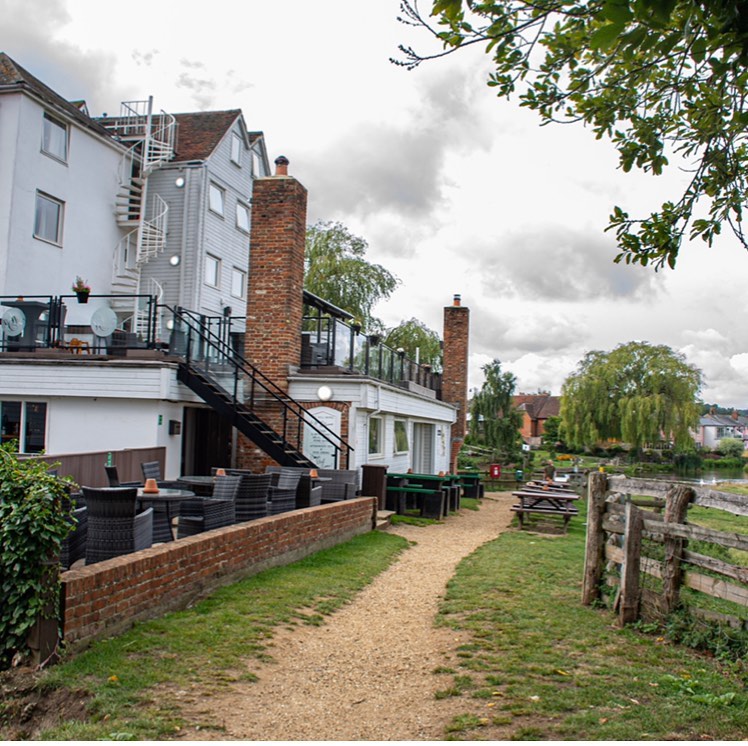 Walnut Tree Lane, Sudbury, CO10 1BD
Located in the quintessential market town of Sudbury, is the impressive and slightly quirky Mill Hotel, a renovated water mill dating back many years. Much of the unique character of this building derive from where original features have been beautifully combined with modern design and conveniences. The Mill invite guests to escape the stresses of modern-day life with a stay in one of their 62 luxury guest rooms, furnished thoughtfully to promote relaxation and well being. There is an on-site restaurant offering fresh cuisine from locally sourced ingredients.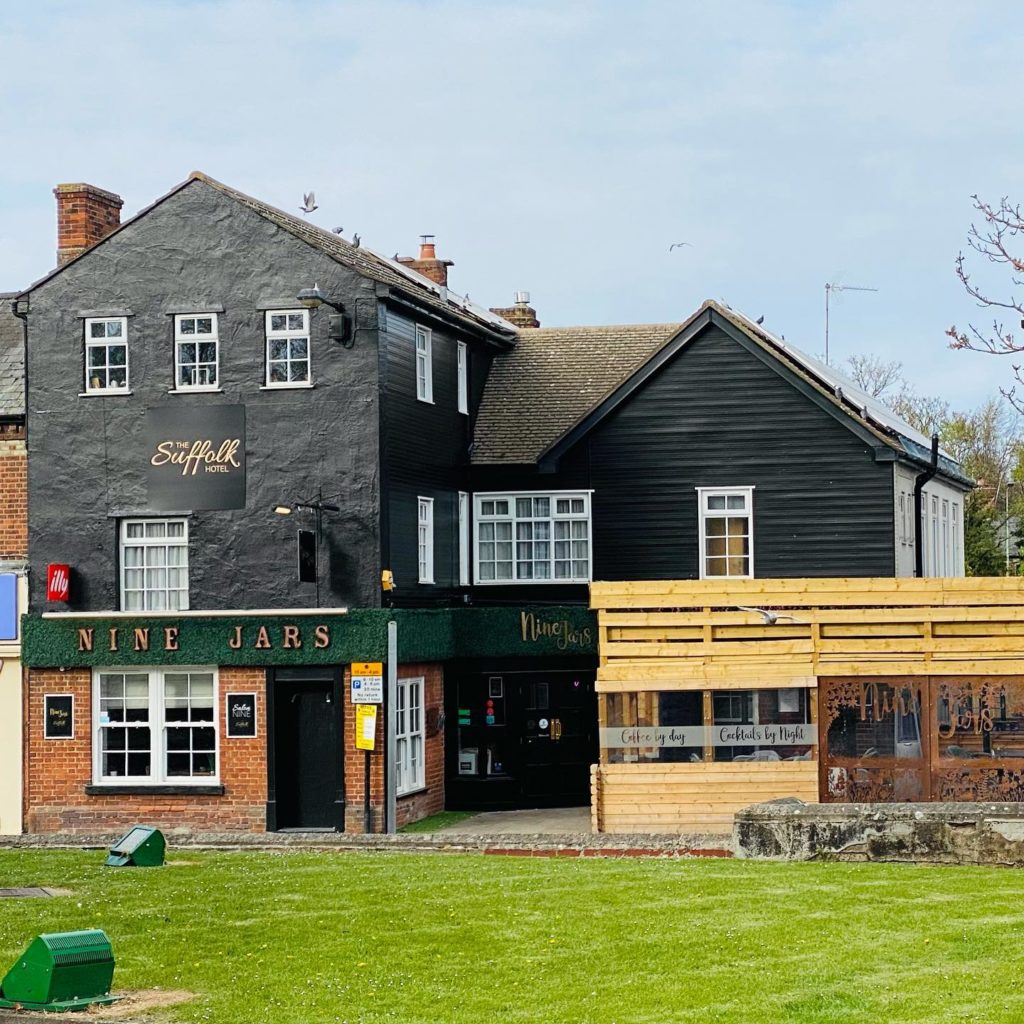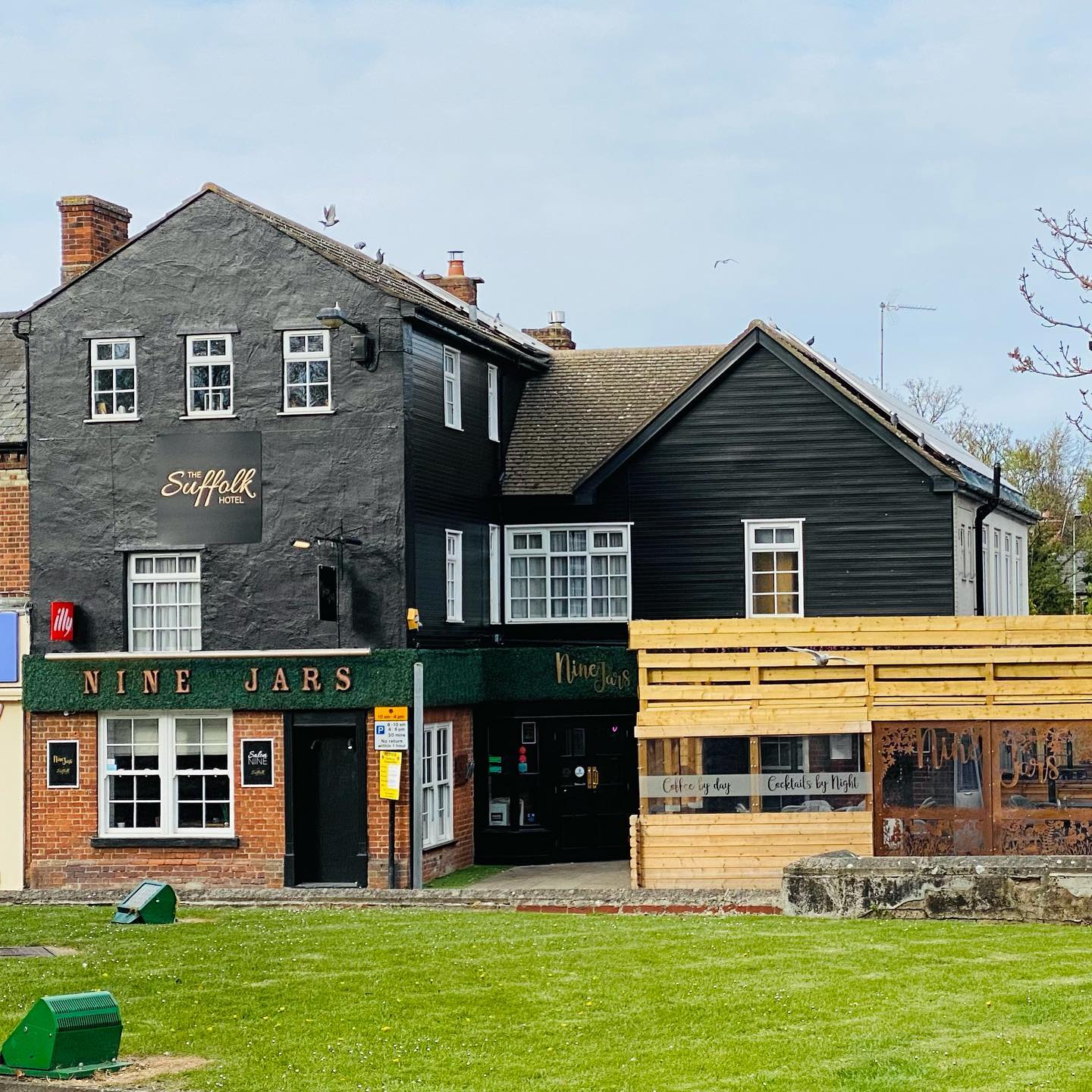 9 High Street, Haverhill, CB9 8AA
The Suffolk Hotel is located right in the centre of racehorse country, with the National Stud and the National Racing Museum just a short drive away. The hotel features well-equipped comfortable room, in a variety of sizes available. Guests are invited to indulge themselves with a pampering session at the luxury spa. There is also a popular restaurant and bar onsite.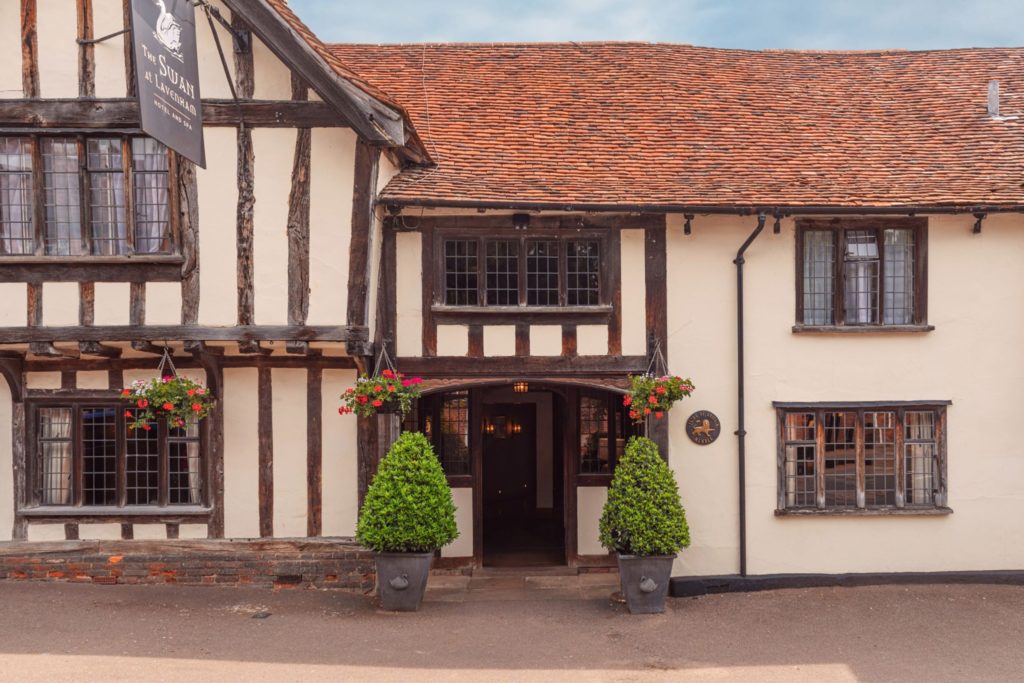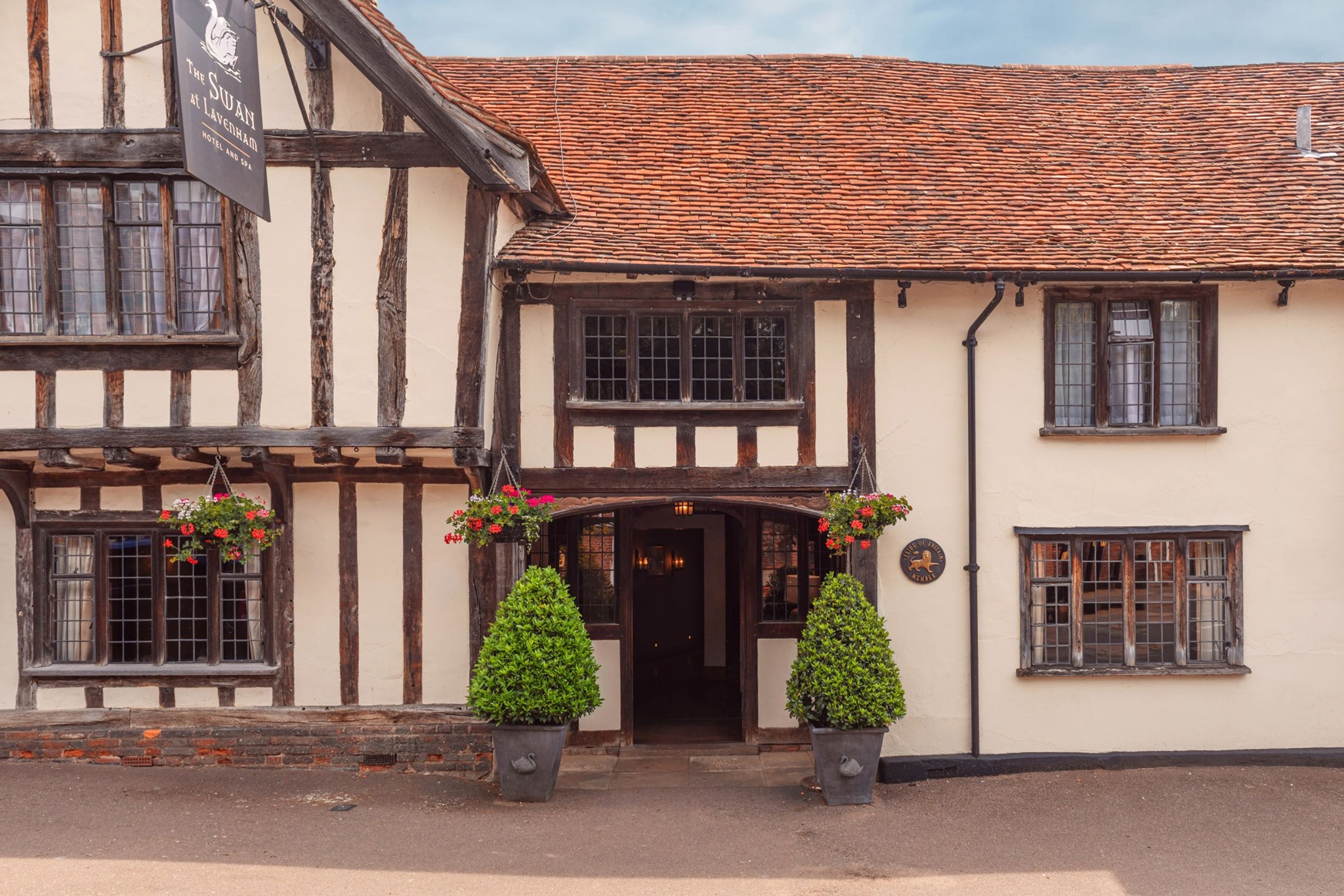 High Street, Lavenham, CO10 9QA
Nestled in the heart of the Suffolk countryside, in the picturesque village of Lavenham, this magnificent 15th-century hotel offers luxury accommodation, a wellness spa and an award-winning restaurant. Lavenham is one of the most well-preserved Tudor villages in England, and so an excellent choice of location for those wishing to learn about the history of the area. The Swan Hotel building itself has been sympathetically restored show celebrating the ancient oak beams, stunning open fireplaces and minstrel gallery. The spa offers an array of treatments, use of a sauna and an outdoor vitality pool. The onsite restaurant serves a modern British cuisine, using fresh, locally sourced ingredients to create its dishes.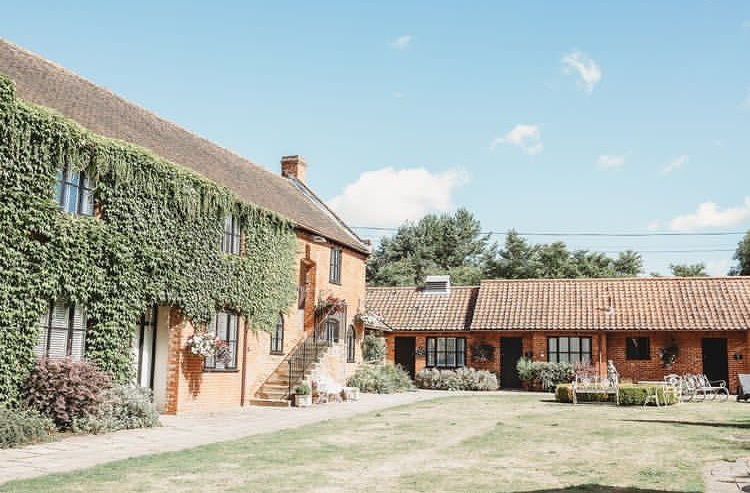 Seckford Hall Road, Woodbridge, IP13 6NU
Seckford Hall Hotel is a magnificent building, that dates to Tudor times.
Surrounded by beautifully kept grounds, including woodland and stunning lake, this handsome hotel is the perfect destination for a getaway filled with history and luxury in equal measure. The original character fof the hall is celebrated throughout including features such as exposed beams and open fireplaces. These are combined with the conveniences modern day guests have come to expect from such a prestigious dwelling, such as a spa and an indoor pool. There are 35 guest rooms, all furnished to the highest standard. There is an onsite restaurant serving sensational cuisine for you to enjoy.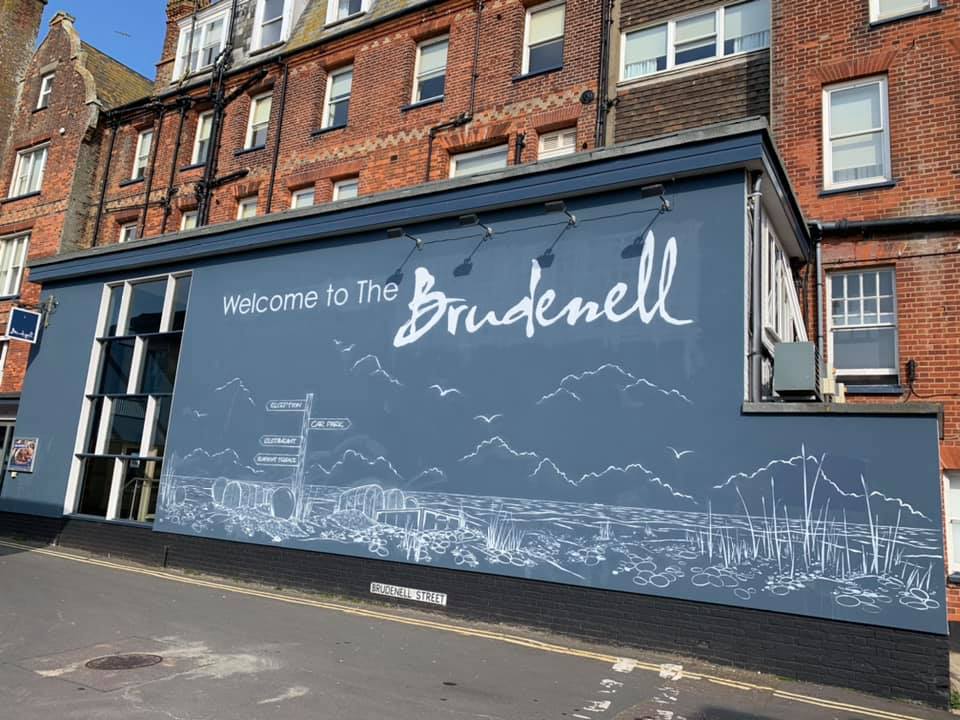 The Parade, Aldeburgh, IP15 5BU
This elegant coastal retreat offers stunning panoramic views of the Suffolk coast and is just a stones throw from the beach. The guest rooms are very well equipped and have been stylishly and thoughtfully furnished, with the guest's comfort in mind at all times. Some rooms at The Brudenell offer sea views. There is an award-winning restaurant onsite, which show cases the locally sourced seafood throughout its evolving menu.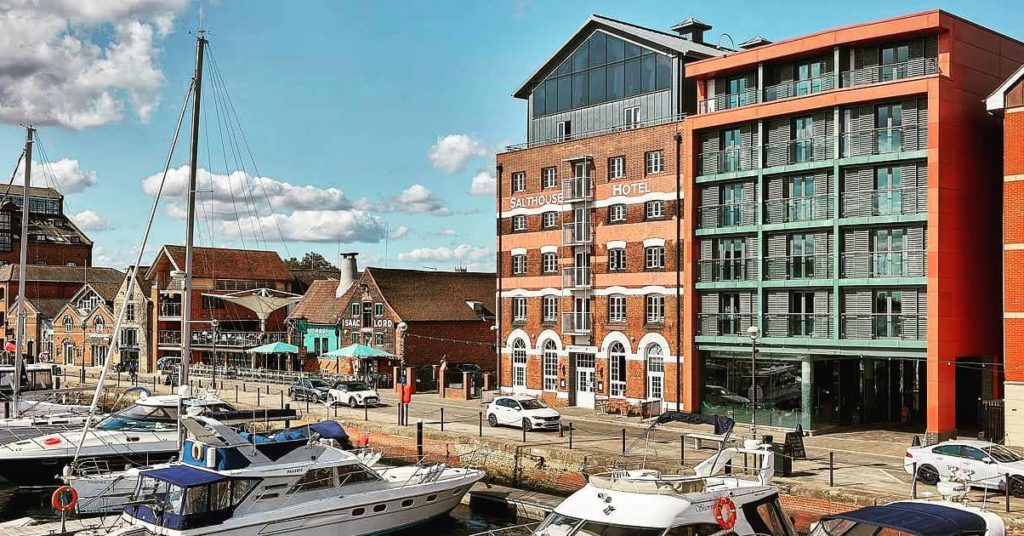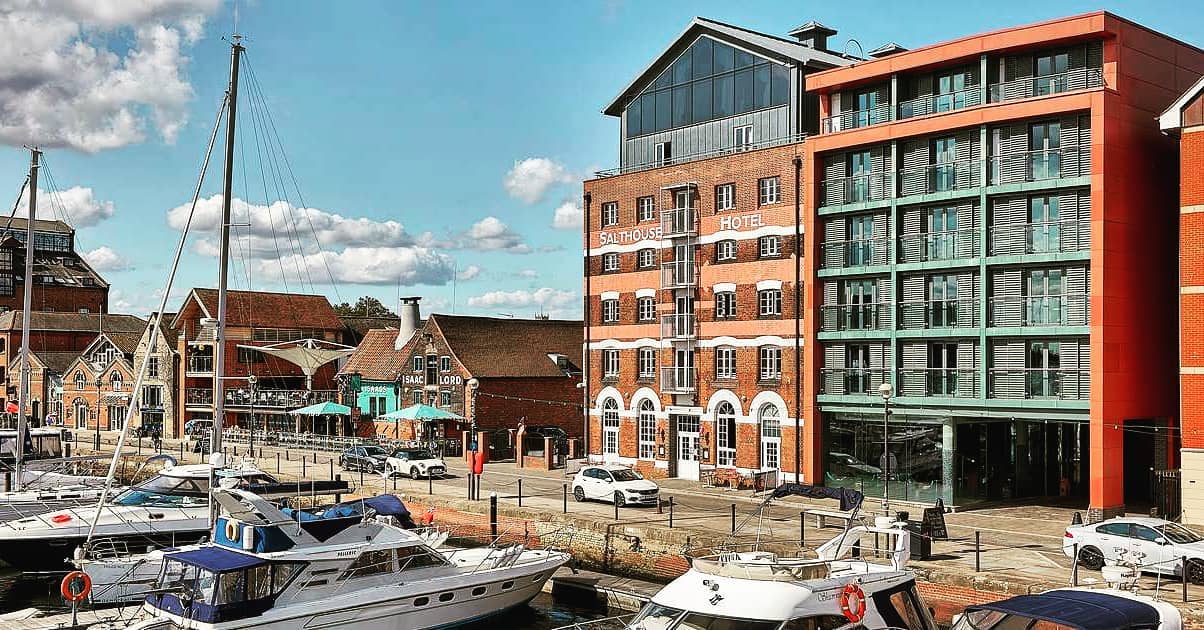 1 Neptune Quay, Ipswich, IP4 1AX
Offering a variety of room types, with many featuring enchanting views of the harbour, this contemporary dockland hotel boasts an exceptional situation on Ipswich's waterfront. There is an onsite boutique restaurant at Salthouse Harbour Hotel, plus an art collection to be enjoyed. Each guest room offers something special, such as pieces of art, copper baths or stunning views. Art is once again celebrated in the restaurant which is decorated with various sculptures and paintings. If you are looking for the ultimate piece of luxury, then consider booking the fabulous Penthouse suite with its floor to ceiling windows and extraordinary views.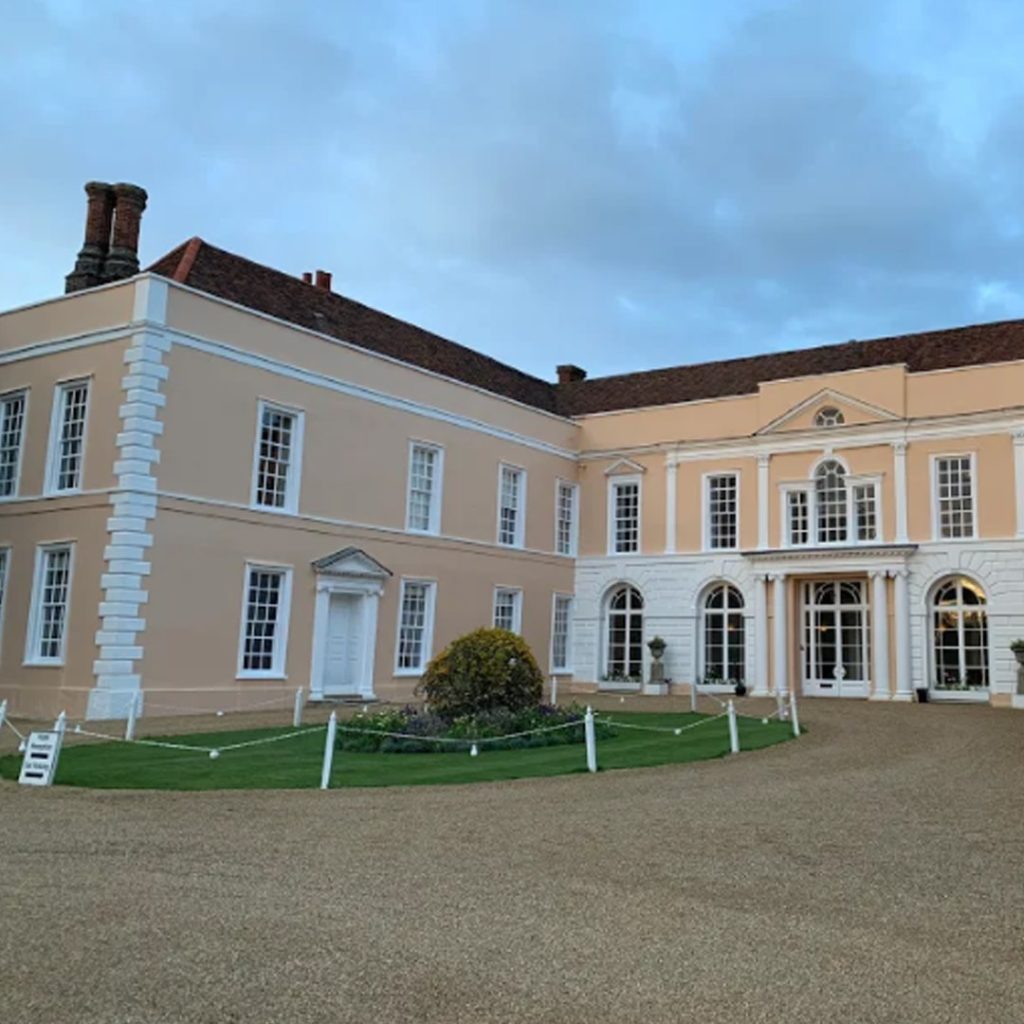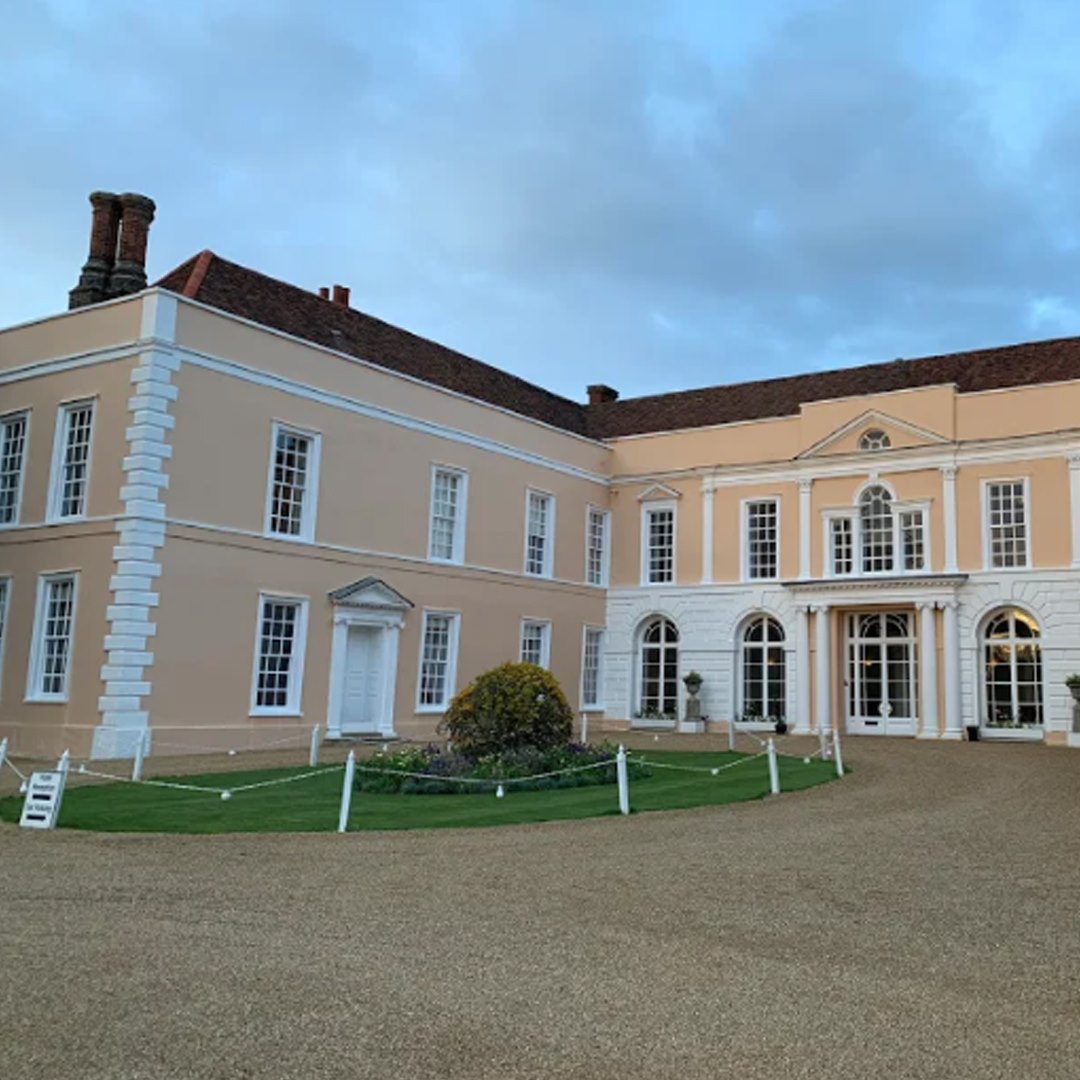 Hintlesham, George Street, Ipswich, IP8 3NS
Hintlesham Hall is a grade I listed Elizabethan manor house and is every bit as impressive as you might imagine. Transformed into a modern-day haven of luxury and comfort, it now holds a reputation of the highest standing. Surrounded by peaceful countryside, yet conveniently just a short drive to the nearest towns. There are 33 guest rooms of varying sizes and styles to suit all tastes. The staff at Hintlesham Hall focus on providing a friendly and approachable service to their guests ensuring people enjoy the very best stay possible. There is a superb restaurant onsite, plus a wellness spa offering an extensive treatment list.
Angel Hotel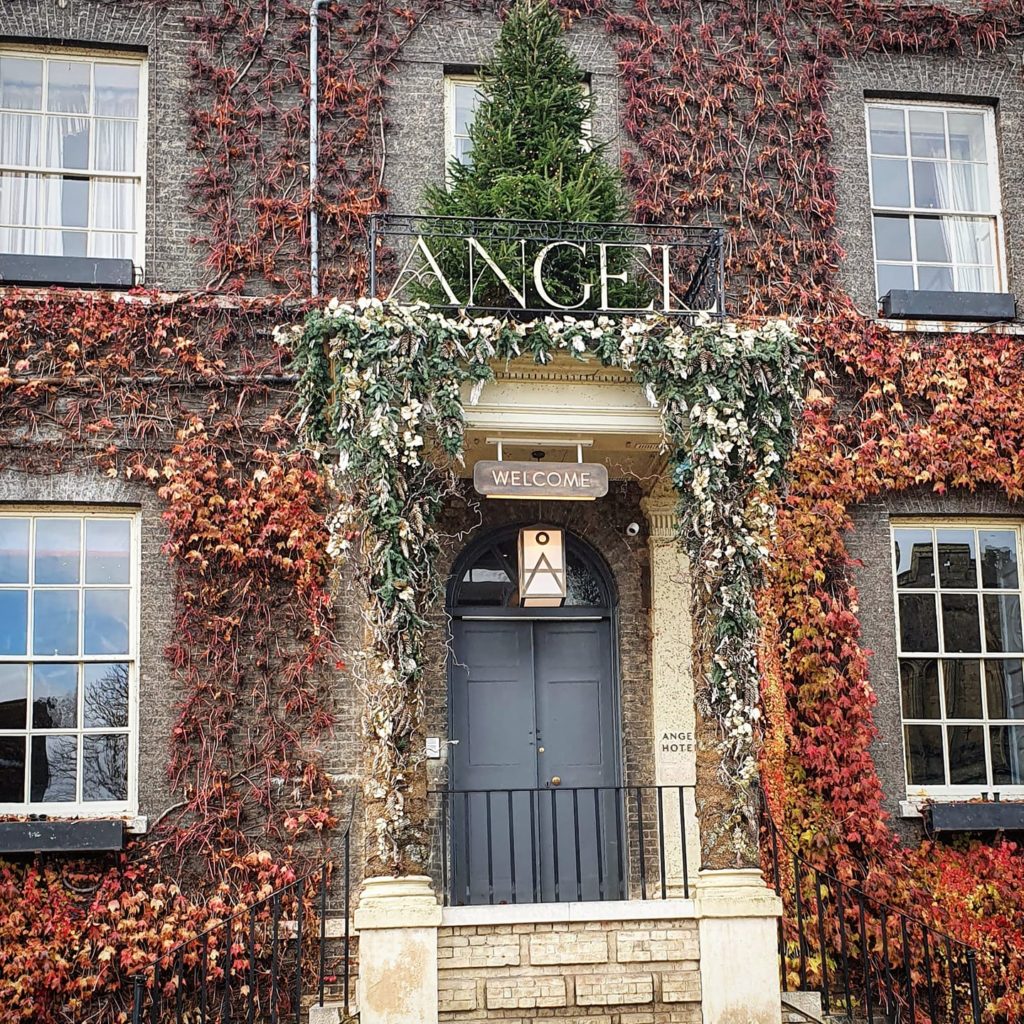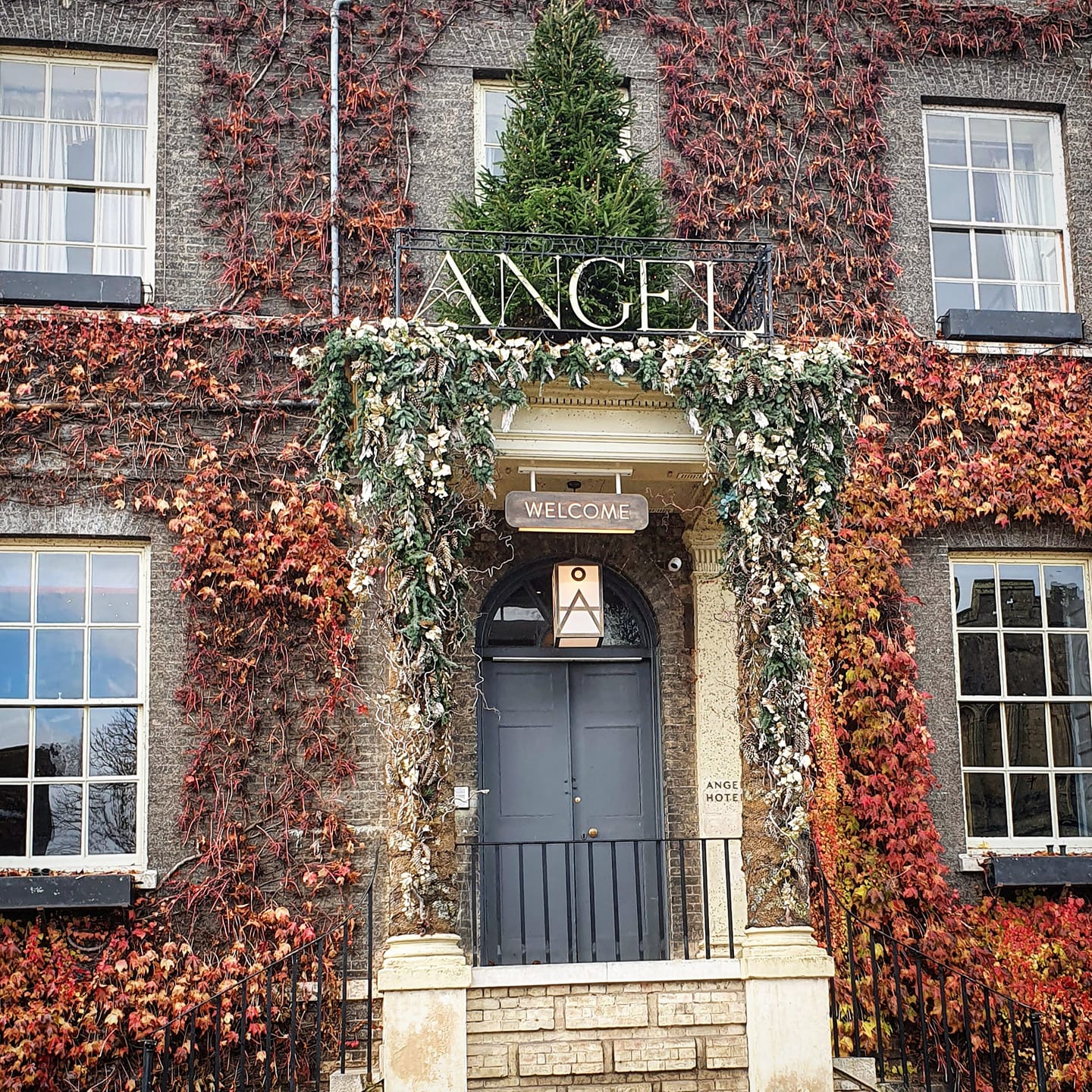 3 Angel Hill, Bury Saint Edmunds, IP33 1LT
If you are looking for a hotel steeped in history then the Angel Hotel should be on your list. This fabulous hotel has been visited by Royalty, famous actors, and acclaimed writers, the most notable of which being Charles Dickens, who even mentions Angel Hotel in The Pickwick Papers! Angel Hotel offers traditional Georgian elegance and charm effortlessly combined with modern conveniences. There is a very popular restaurant and bar onsite, which is loved by locals and guests alike. For an extra special treat, spoil yourself with a stay in the Contemporary Superior with Abbey view suite which offers the ultimate in luxury.
Check out Luxury Norfolk Hotels